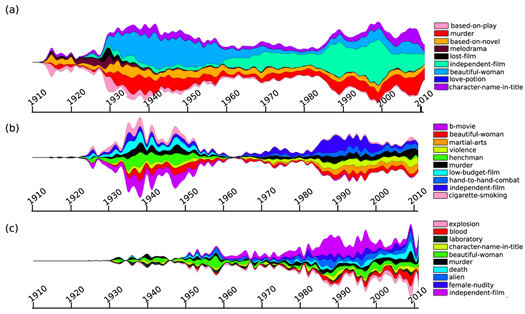 The chart above is from an interesting new paper about movie theme novelty by RPI researcher Sameet Sreenivasan in the journal Nature Scientific Reports. Sreenivasan used keyword tags from IMDB to track rise and fall and certain themes -- and calculate novelty scores based on the use or combination of those themes -- for films over the last 80 years. That streamgraph chart tracks popular themes over time (here's a bigger version).
Sreenivasan's paper is full of interesting bits and assertions about films over the years. Maybe the biggest one is that novelty in films increased dramatically after the demise of the old-school studio system and has been slowly declining since. This Wired article is a good write up of the study's findings.
Also interesting (to us): Sreenivasan is a physicist -- but he's a research associate at RPI's three-year-old Social and Cognitive Networks Academic Research Center. From a short bio on his web page:
The topics I work on include investigations of peer-influence driven processes on social networks, studies aimed at uncovering community evolution on dynamic networks, mining the hierarchical relationships hidden within crowdsourced keyword sets and devising metrics that quantify novelty from these sets.
Some of the discussion at the end of his film novelty paper point at some of the future applications of this sort of research -- including "artificial or computer-aided story generation."
Oh, and we learned a new word today: culturomics.
graphs: "Quantitative analysis of the evolution of novelty in cinema through crowdsourced keywords," Sameet Sreenivasan, Nature Scientific Reports