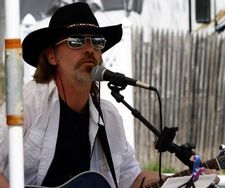 It's Monday -- My Exit day on WEXT. For one hour every week listeners get to be the DJ and share the music they like with the WEXT audience.
This week: southern rock, Neil Young and some originals by this week's DJ, Herb Carter.
Who?
My name is Herb Carter, Jr. I am originally from Dannemora, New York (waaaaay up The Northway). I am a transplanted capital area resident since 1984. I am a widowed father of three sons, Brian, Jesse and Samuel (Sammy). My day job is selling parts at Latham Ford but by night I change into "Smokin Herb" and play all over the area with my duo and band 18 Strings Of Trouble. It's not so much a band as a whole bunch of good friends who just happen to be musicians and available that night. I have had the great pleasure of jamming with many of the areas finest players and the best times are still to come.
What kinds of music do you like?
I am a huge fan of the singer/songwriter. Quite possibly the biggest Neil Young freak you will ever meet with a healthy dose of Doors worship thrown in. I love Southern Rock and to me there is no better mix than well played acoustic plus a screaming electric lead over the top of it. On tonight's show you will hear those influences.
A few songs from Herb's My Exit
"Cowgirl In The Sand" - Neil Young
A solo acoustic version from Live at Massey Hall. This is my all time fave by Neil. Just the man alone in a wooden chair with his acoustic guitar and a song he wrote when he had a fever and saw a photo of a girl on the beach in Spain with a cowboy hat.
"Midnight Rider" - Gregg Allman
I love Gregg's voice and the beauty of the lyrics "I've gone by the point of caring... and the road goes on forever, yes it does!
"The Storm" - Herb Carter Jr and Greg Guba
The Storm is an original song inspired by Midnight Rider (you'll hear the homage in the intro) and Hurricane Irene. Greg adds the Resinator over my 12 String and I think it stands up pretty well.
"Choctaw Bingo" (performed solo acoustic 12 String) - James McMurtry.
Again just a man in a wooden chair this time playing a twelve string guitar in a bowling alley full of Baptists telling the story of Uncle Slayton and his special traveling arrangements -- "strap them kids in and give em a little bit of vodka and some cherry cola we're going to Oklahoma." I'll go anywhere to hear this one.
"The Ghost Song" - The Doors
I was about 13 years old when I first discovered The Doors, Jim Morrison's lyrics, and The wall of sound by Ray, Robbie and John grabbed hold of me and has never let go. "Light My Fire" and "L.A. Woman" may get all the play but dig deep into Jim's poetry for "The Ghost Song" and try not to see the imagery he's painting with his words.
Somewhere interspersed you will hear two more originals "87 Northbound" and "Your Love Blows" played live in studio.
You can hear Vincent's My Exit show Monday night at 11 pm on 97.7, Saturday at 8 am, or at exit977.org.
Here's how to schedule your own My Exit show on WEXT.
Hi there. Comments have been closed for this item. Still have something to say? Contact us.