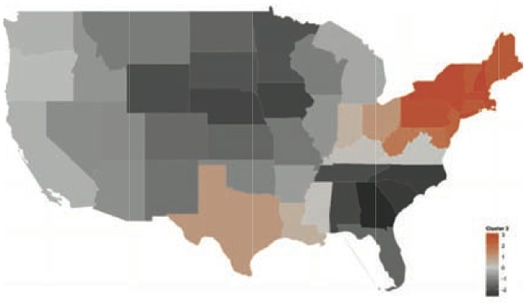 New York State is at the heart of the "temperamental and uninhibited" region of the United State, according to new research. And that could be having an effect on a wide range of issues -- from politics, to migration, to economic development.
The paper (pdf) appears in the Journal of Personality and Social Psychology. The authors include a group who published similar research a few years back that identified New York State as one of the most neurotic states in the country. In this new research, the authors -- from Cambridge, University of Texas at Austin, and Finland -- aimed to pull together survey data on the "Big Five" personality traits to map the "psychological topography" of the United States, and concluded that there are three regions:
+ Friendly and Conventional - the Midwest and Southeast
+ Relaxed and Creative - West Coast, Rockies, Southwest
+ Temperamental and Uninhibited - the Northeast, near Midwest, and to some extent, Texas
Here's a clip from the discussion for the "temperamental and uninhibited" region:
The Temperamental & Uninhibited region comprises states predominantly in the MidAtlantic and Northeast. This region is made up of the quintessential Blue states. The psychological profile of the region is defined by low Extraversion, very low Agreeableness and Conscientiousness, very high Neuroticism, and moderately high Openness. This particular configuration of traits depicts the type of person who is reserved, aloof, impulsive, irritable, and inquisitive. There are disproportionate numbers of older adults and women in this region, in addition to affluent and college-educated individuals. Residential mobility is low here, and in fact, data from the U.S. Census (Ihrke & Faber, 2012) indicates that significant numbers of residents of this region are leaving the area. Residents of this region also appear to be politically liberal and not mainline Protestants. Overall, it appears that this psychological region is a place where residents are passionate, competitive, and liberal.
There's also some discussion speculation how these traits tended become pronounced here:

How did the Temperamental & Uninhibited region emerge? Compared with other parts of the country, this region is undergoing an exodus of residents, with many people relocating to the South and Southwest. Recent work by Jokela (2013) suggests that individuals who desired to and actually did move to another part of the country were comparatively high in Openness, Conscientious, and low in Neuroticism, characteristics that are almost entirely opposite of the Temperamental & Uninhibited profile. These findings make it reasonable to speculate that one mechanism responsible for the psychological profile of this region stems from residential mobility, or rather immobility. In other words, the psychological profile common in this region reflects the characteristics of residents who have chosen not to move to another region.
Think about that for a second. What if people haven't been leaving New York because of taxes, or the economy, or the winter, or whatever reason that gets tossed around often. What if they're leaving to get away from the cranky people here?
Another mechanism that could be at work in this region is social influence. For example, this region has the longest settlement history, which means it has the oldest traditions and institutions in the country. It is conceivable that over time, the norms and institutions established here have shaped the behavior and psycho-logical characteristics of residents. This idea is consistent with much theorizing in cultural psychology, which argues that norms and institutions have top-down effects on personality development by influencing what people are socialized to believe is right and wrong, and by shaping life experiences and opportunities (Hofstede & McCrae, 2004). Such processes should be less likely to occur in frontier regions because norms and values are more variable (Kitayama et al., 2010). In addition to norms and institutions, social influence could also contribute to the psychological characteristics of this area by way of emotional contagion. For example, research indicates that the positive and negative affect of one's friends and romantic partners can influence individuals' levels of happiness and depression (Fowler & Christakis, 2008; Joiner & Katz, 1999). Considering that the Temperamental & Uninhibited profile is marked by high Neuroticism, it seems reasonable to speculate that social influence might facilitate the spread of anxiety and irritability across the region.
And from a little further along in the paper:
Indeed, the present results and recent research on entrepreneurial rates (Obschonska et al., 2013) strongly suggest that the proportion of individuals with personality traits associated with high Openness and low Neuroticism is an important factor contributing to economic innovation and prosperity.
Of course, big questions here are whether people are this way because of some condition here -- maybe the economy and the weather are making them irritable -- and whether psychology is destiny.
But it's an interesting way of thinking about things. What if regional population growth and economic development take more than low taxes and venture capital -- what if they also take an attitude adjustment?
Rentfrow, P. J., Gosling, S. D., Jokela, M., Stillwell, D. J., Kosinski, M., & Potter, J. (2013, October 14). Divided We Stand: Three Psychological Regions of the United States and Their Political, Economic, Social, and Health Correlates. Journal of Personality and Social Psychology. Advance online publication. doi: 10.1037/a0034434
[via Flowing Data and Gizmodo]
Hi there. Comments have been closed for this item. Still have something to say? Contact us.