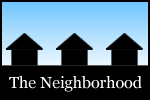 Among the topics in this most recent spin around the Capital Region's online neighborhood: Chowderfest, a farewell, pre-kid/post-kid, picky eating, pretty easy, High Peaks, efts and aphids, Saratoga, Urban Raid, fashion, a New England Beer trip, cracking on upstate, what's to come, seafood, Mexican food, bread, the greatest name, and goodbye.
Jeff had some thoughts and suggestions after Chowderfest in Troy. And Kimberly shared a bunch of pics from the event.
Chuck bid farewell to "Pop."
Stephanie chronicled some pre-kid/post-kid realities.
One of Kristi's readers asked about finding a food specialist for a picky eater.
Albaniana's conclusion from a Bethlehem town meeting: "we really do have it pretty easy in our suburban community."
High Peaks: Jona is now a 46er! Christine is more than halfway there. And Jen is getting started.
Jackie has the best eye for details -- including efts and aphids.
FiS Dan had more Saratoga Snippets.
Silvia took on the Urban Raid course in Albany.
Alexa focused on fashion at the Albany Barn Fusion event.
The Fuj embarked on quite a New England beer trip.
Jerry took issue with a crack about upstate New York.
Steve got a preview of what's to come from the new chef at Taste. (And noted some apparent inconsistencies from an Albany bar.)
Emily and Scott had their expectations exceeded at Bonefish Grill.
J+R report at Leon's -- a Mexican restaurant in Saratoga -- is getting better. (And they made an Eat This-inspired trip to Casa Dominicana.)
Mr. Dave continued his homemade nog journey.
Rob called on local supermarkets to get longer bread sleeves.
Carl took a moment to highlight "the greatest name ever to appear in the Troy city directory."
And The Exiles are moving. We're sad to see them go.
Hi there. Comments have been closed for this item. Still have something to say? Contact us.