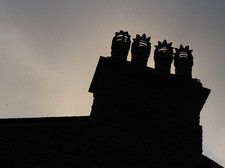 Val asks via Twitter:
Ok, so thinking ahead, I don't see an Ask AOA on chimney sweeps. I'd love a name of someone in Alb who cleans & does masonry.
This may sound like one of those jobs from 1890 or something (and, you know, it was... and it wasn't also chim chim cher-ee). But it can be important for a modern chimney that still gets used. Residue builds up over time and it can be a safety issue.
So... got a suggestion for Val? Please share.
Hi there. Comments have been closed for this item. Still have something to say? Contact us.