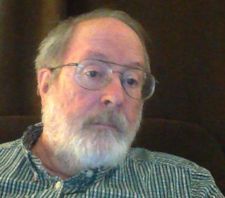 This week, My Exit comes a few hours early. WEXT will broadcast an Arcade Fire concert from 10-11:30 pm Monday, so My Exit -- in which listeners share some of their favorite music, starts at 9 pm tonight.
This week's DJ, Alan Warde, has a playlist that includes The Boss, The Lustre Kings, and Commander Cody and his Lost Planet Airmen.
Who?
In real life I'm part of the policy development staff at NYSDOT, here in Albany. I started there some 34 years ago and have enjoyed every minute of it. While getting my bachelor's at U of Wisconsin-Madison I had an early morning radio show at one of the student stations, WLHA in Madison, Wisconsin.

How would you describe your taste in music?
My music tastes are very eclectic and range from classical to rockabilly. I was in a very progressive high school for its day and used to compose electronic music compositions as well as playing guitar and cello.

A few songs from Alan's My Exit:
"Because the Night" - Bruce Springsteen and the E-Street Band
I'll play a live performance from the early 1980s. This song has some of my favorite lyrics of any song -- Patti Smith really outdid herself on this one!!

"Drinkin' Wine" - Michael Bloomfield
This is the very first performance on the Electric Flag, guitarist Michael Bloomfield's first and best band that he fronted. His guitar work on this song is stunning in spots and Nick Gravenites's vocal is first rate.

"Clouds" - Dave Van Ronk
This is Joni Mitchell's "Both Sides Now" sung by Dave Van Ronk and his band at the time, The Hudson Dusters. Bowing to the times, the band's lead guitarist's name was "Pot." This version really shows what an understated talent Dave Van Ronk was and is reputed to be Joni Mitchell's favorite cover of her song.

"Rock That Boogie" - Commander Cody and his Lost Planet Airmen
This is performed by Commander Cody and his Lost Planet Airmen during the mid 1970s. This is a live recording that really demonstrates the high level of energy and precision that the band was capable of. Commander Cody has been living in Saratoga County now for a number of years and the rhythm guitarist is John Tichy, retired several years ago as the dean of engineering at RPI. He still performs in the area, often with his son Graham Tichy.
"Bopalen" - Lustre Kings
This is a rockabilly song written in part by Mel Tillis but performed by the area's own Lustre Kings.

"My Back Pages" - Roger McGuinn
This is a live version that was performed at a concert celebrating Bob Dylan's 30th anniversary in the music business. The song features verses sung by Roger McGuinn of the Byrds, Tom Petty, Eric Clapton (vocal and guitar solo), Neil Young (also vocal and guitar solo), George Harrison, and Bob Dylan.

"Galaxy Drive" and "California Sun" - Los Straightjackets
Both of these are performed by Los Straightjackets, which is a band fronted by former Mechanicville native Eddie Angel.
You can hear Alan's My Exit show Monday night at 9 pm on 97.7, Saturday at 8 am, or at exit977.org.
Here's how to schedule your own My Exit show on WEXT.