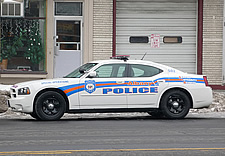 Starting this week the Albany Police Department is participating in a national study that includes what's sort of like a customer satisfaction survey distributed to people who come into contact with the police department. We get the feeling it's kind like those "rate this experience" surveys that show up on receipts at retail stores and restaurants.
From an APD press release:
As police reports are filed, a letter will be sent to community members asking them to take a survey. The survey is available in Spanish and English and can be taken either online, or by telephone. The online survey can be accessed through a computer or by scanning a QR code with a smart phone or tablet device. The letters will include a special code needed to participate in the survey and ensure that only one survey is completed for each encounter. No one asked to participate in the survey should be concerned that the information could be used in other ways. None of the information will be collected by the Albany Police Department since all survey responses will be managed by the [University of Illinois at Chicago] researchers. The results provided to the agency will not include any information identifying the individual responding to the survey or the officer involved in the contact. Police encounters that involve traffic accidents and stops, as well as most non-violent crimes, will be part of the survey. However, encounters that result from domestic violence, sexual assault, or juveniles will not be surveyed.
As the blurb notes, the surveys are part of an ongoing research project called the National Police Research Platform, which is based on at University of Illinois at Chicago. The APD's participation is part of a second phase for these community surveys that includes police and sheriff's departments across the country.
So why do this?
The National Police Research Platform website has a report based on Phase 1 of the public satisfaction survey project. A clip:
In the larger context of policing in a democratic multicultural society, police scholars and practitioners have called for greater attention to the processes of policing. In this regard, the content of the Platform's Public Satisfaction Survey has been influenced by work in several areas. First, there is considerable work in the private sector on the "customer service" model, whereby standard indices of customer satisfaction are widely accepted and taken very seriously in competitive markets. Second, research in support of procedural justice theory indicates that people's judgments about the police are based heavily on their sense of whether the process is fair, so dimensions of procedural justice are included. Factors such as the officer's demeanor and perceived fairness play a role in determining whether community members are satisfied with their encounter, whether they will trust and work with the police in the future, and whether they will be inclined to obey the law themselves. Finally, research on victims of crime underscores how negative, unsupportive reactions from law enforcement professionals can inhibit crime victims' psychological recovery and reduce the likelihood of future disclosure or reporting to authorities. Negative social reactions to victims can include taking control of the victim's decisions, victim blame, distraction from what happened, and egocentric behavior. Positive social reactions can include instrumental, emotional, and information support.
In sum, extant research and practice suggest that there is more to police-civilian encounters than official statistics on crime incidents, arrests, and traffic citations. Factors such as the officer's demeanor, fairness and impartiality, emotional and informational support, and professional competence all play a role in determining whether community members are satisfied with their encounter; whether they will trust and work with the police in the future; and whether they will be inclined to obey the law themselves. Each deserves to be measured and monitored in a systematic way.
A lot of this sort of falls into the "well, of course" category. But that's one of the reasons to do research -- to confirm (or challenge) those things that "everyone knows."
What do these results potentially mean in practice? Another clip from that report, about traffic stops and car-side manner:
[W]hen the officer gives a citation, the recipient's rating of the officer's handling of the situation drops 36 percentage points; the rating of satisfaction with the way s/he was treated drops 42 percentage points, and the recipient's trust in the department "to make decisions that are good for everyone" drops 24 percentage points. In sum, the outcome (ticket or no ticket) is still very important when evaluating police performance, even to the point of influencing the public's general assessment of trust and confidence in the police department's decision-making.
However, the importance of process is also apparent in these preliminary results. Again, looking only at traffic stop cases, Table 7 shows that the baseline level of satisfaction among all drivers is 44.8 percent for cases when a ticket is issued. But satisfaction levels during these encounters where negative information (a ticket) is communicated can be influenced by car-side manners or procedural justice. For example, drivers' satisfaction with the encounter increases to 67.3 percent (from 44.8 percent) if the officer is viewed as listening to driver's side of the story, but drops to 11.8 percent if the officer is not considered a good listener. Similarly, satisfaction increases to 62.1 percent when the officer is judged to be polite during the encounter and drops to 7.7 percent if the officer is judged to be impolite. In a nutshell, some methods of delivering bad news are more effective than others for maintaining positive relations with the community.
As it happens, healthcare providers have also become more focused on these sorts of surveys, along with the "how" in addition to the "what" of patient care -- in part because they now have a financial incentive to do so as some funding is dependent on patient satisfaction measures. [WSJ]
In the case of police, there might not be a financial incentive (yet), but better interactions between police and citizens could potentially lead to the departments and communities working together more productively. And treating people with respect and empathy also happens to be right thing to do, in general -- whatever the situation.
Tangentially related: A recent HuffPo article about the police chief in Salt Lake City and his effort to "humanize" the police force
Say Something!
We'd really like you to take part in the conversation here at All Over Albany. But we do have a few rules here. Don't worry, they're easy. The first: be kind. The second: treat everyone else with the same respect you'd like to see in return. Cool? Great, post away. Comments are moderated so it might take a little while for your comment to show up. Thanks for being patient.