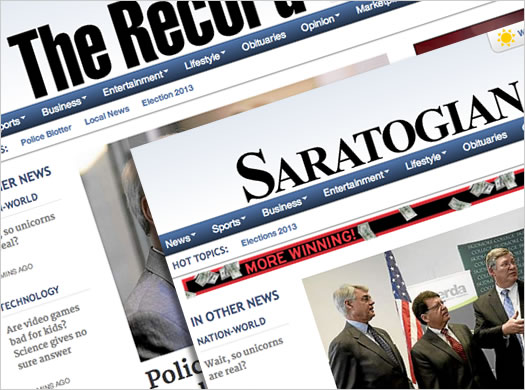 The Record and Saratogian will be getting paywalls for their websites, part of an "All-Access print-digital subscription initiative" by their parent company at 75 dailies across the country. John Paton -- the CEO of Digital First Media, which manages the company that owns the papers -- announced the plan in a blog post Monday. Saratogian managing editor Barbara Lombardo confirmed that both the Saratogian and the Record are part of the plan.
It's not really news that newspapers have been struggling to find their financial footing as the media world transitions from print to digital. And it sounds like DFM -- which pulled its papers through bankruptcy and has been attempting to aggressively restructure its business -- is making this move somewhat grudgingly. A clip from Paton's post:
After a lot research by our team, we believe an All-Access print-digital subscription initiative is necessary to buy us that proverbial gas in the tank [to make the transition].With the rise of digital and the fall of print, we're at the point where we can launch a working All-Access subscription model.
Let's be clear, paid digital subscriptions are not a long-term strategy. They don't transform anything; they tweak. At best, they are a short-term tactic. I have said that often enough in the past.
But it's a tactic that will help us now.
In the post, Paton says the configuration will be different in each market, and will include new offerings. Jonathan Cooper, a DFM VP, tells us in an email that timing and details for each market are still to come. (Here's the setup for its paper in Denver.)
In the Capital Region, the Daily Gazette has a paywall that restricts access to subscribers for all but a few stories and features. The Post-Star's paywall allows people to access 10 articles over the course of a month without paying, much in the same way the New York Times paywall operates. And the Albany Business Review restricts some of its content to subscribers.
After allowing free online access to their content for years, many newspapers have erected some sort of paywall during the last few years. Ken Doctor, who's well-known in the media industry for tracking "newsonomics," figures about 40 percent of US dailies now have have some sort of restricted access. A clip from Doctor's take on the DFM move:
Paton likes to call paywalls a "tactic" rather than a strategy. I'm not sure that's a meaningful distinction. Maybe "paywalls" are a tactic, but reader revenue is a strategy, and it's one that makes as much philosophical sense as financial. Who better to pay most of the salaries of journalists than the people they write for? Isn't that better than being largely beholden to more fickle commercial interests?
We come out of a world, in the U.S., where advertisers contributed 80% of the revenues and readers only 20%. By the end of this year, we'll be up to close to 30% reader revenue, both because of paywalls and greater ad decline. The New York Times is already at 56% reader revenue; it's crossed over, and it's not only. Strong dailies like the Star Tribune are in the mid-40s. Expect much of the industry to share similar economics by 2017.
One of the things that makes this strategy tricky in the Capital Region is the structure of the local media market. There's a varied mix of dailies, along with local TV news and a few online outlets, some of which overlap in places. And hovering above everyone is the Times Union, which despite its cutbacks over the last few years, still dwarfs every other outlet in the area in terms of coverage and reach -- and it offers pretty much everything online for free.
It'll be interesting to see how DFM plays the situation here. It could be hard to get people to pay as long as there is a substitute readily available for free. But, frankly, no one in the media has figured out the business side in the digital world, yet. So, who knows -- it could be worth a shot.
Earlier on AOA: How to use Capital Region news websites to read the news
Say Something!
We'd really like you to take part in the conversation here at All Over Albany. But we do have a few rules here. Don't worry, they're easy. The first: be kind. The second: treat everyone else with the same respect you'd like to see in return. Cool? Great, post away. Comments are moderated so it might take a little while for your comment to show up. Thanks for being patient.