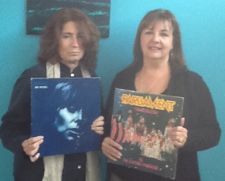 Sometimes, when you're feeling the futility and sadness of a cold November Monday, the thing to do, rather than fight it, is to just go with it. Put on some sad songs and an oversized sweater, make a cup of tea, and brood a little, the way Northeasterners are occasionally meant to do in late autumn.
If that's what you're up for, tonight's My Exit can help. DJs Joanne Stazio-Silverman and Rosemary Armao have picked a playlist of songs to help you immerse yourself in that sense of longing -- from Townes Van Zandt to The Rolling Stones.


Who?
Joanne Stazio-Silverman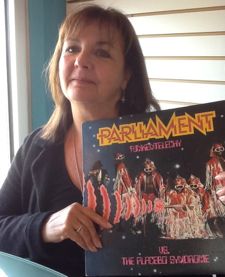 My fond memories of loving and listening to Archie Bell and the Drells, Mary Wells, Jr. Walker and the All Stars and so much more great music on our porches growing up in West Albany, led me to WEXT's Rock N Soul Hour and then to My Exit. Thank you WEXT.
Some of my favorite things are being with family and friends, listing to music with them whether at a venue or at my kitchen table with good food and a glass of wine. The music I listen to leans toward a soulful sound that blends funk or folk, with passionate vocals and layers of sublime harmonies. A creative hook or bridge always gets to me. The up-tempo playlist of our show reflects that side of me. I do appreciate a song that gets you in the "gut" or physically attacks your body by giving you chills.
I must admit I was very nervous doing the show, but my good friend and co-host Rosemary dragged me over the finish line. We had a great time!
Rosemary Armao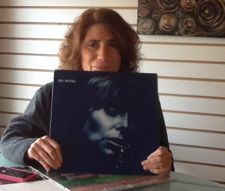 I'm a journalism professor at UAlbany, a blogger and a panelist on WAMC radio shows. I love all kinds of music except jazz and really extreme country. As a child of the 60s and 70s, you can almost guess what kind of music I am most likely listening to, except when at the gym. And then it has to be Madonna, whom I don't otherwise appreciate.
Joanne has introduced me to much great new and local music -- not to mention WEXT - that I would not normally know about, much less appreciate. She picked out most of the songs you are highlighting, except for "Satisfaction" by the Stones, a quintessential song of longing and unmet need.
Our song list features a lot of what you might call downer music, like Townes Van Zandt, an amazing poetic lyricist, who manages in songs like "Marie" ( too despairing for us to air) and "Waiting Round to Die," which we do include -- the hopelessness and futility that most of us feel at one time or another.
In March a close friend of mine had what was supposed to be routine surgery and it went all wrong. He needed 100 units of blood, had a series of strokes and threw a blood clot. I thought he was going to die and for weeks I drove from Albany to the ICU unit in Boston to visit. Those were the absolute bleakest six hours (back and forth) of my life. At the same time my sister Lisa broke up with a man she really loves. She drove with me to Boston and we could not bear anything chirpy on the radio. I listened to "Waitin' Aound to Die" once like 12 times in a row. So driven by that distraction we had to find other sad songs. There are A LOT.
Joanne helped with some selections and then suggested we had to cut the gloom with something at least hopeful. That was the origin of our playlist. By the way, my sister and her boyfriend are reconciled and my friend is on the mend.
A few songs from Joanne and Rosemary's show:

"Calling You" by Jevetta Steele
This song of hope comes from the musical/movie Bagdad Café. A dilapidated café filled with strange folk, in a funk, with their spirits broken, just like the coffee machine. The first time Joanne heard this song it gave her the shivers.

"Simply Satisfied" by Cameron Galpin
That sweet, soulful voice and style of Cameron's songs. He is a talented, singer-songwriter that currently lives in Brooklyn. He also plays guitar and surrounds himself with other stellar musicians working on his LP for release late spring 2014. You can see him live at Rockwood Music Hall NYC January 16 and you can find more of his music on FB and YouTube.

"Satisfaction (I can't get no)" by The Rolling Stones
Classic from the Stones. Brings you back to the days when you left the arm of the record player to the side, so the record would repeat.

"Hot Rum" by The Boom Booms
This Canadian band combines so many elements in their music. They can be smooth, funky or even a little jazzy at times rolling it up with a sense of rock incorporated in some of their songs. Something a little happier.

"Gravity" by The Whitest Boy Alive
Joanne could listen to this band all day. Erlend Oye's soothing vocals blended with mostly up-tempo music lend itself to a beautiful listening experience. Erlend along with Eirik Glambek Boe have another band (duo) called Kings of Convenience. Their music sounds more subtle with delicate tunes. Same calming voices and intricate guitar melodies.

You can hear Joanne & Rosemary's My Exit show Monday night at 11pm on 97.7, Saturday at 8 am, or at exit977.org.
Here's how to schedule your own My Exit show on WEXT.
Say Something!
We'd really like you to take part in the conversation here at All Over Albany. But we do have a few rules here. Don't worry, they're easy. The first: be kind. The second: treat everyone else with the same respect you'd like to see in return. Cool? Great, post away. Comments are moderated so it might take a little while for your comment to show up. Thanks for being patient.