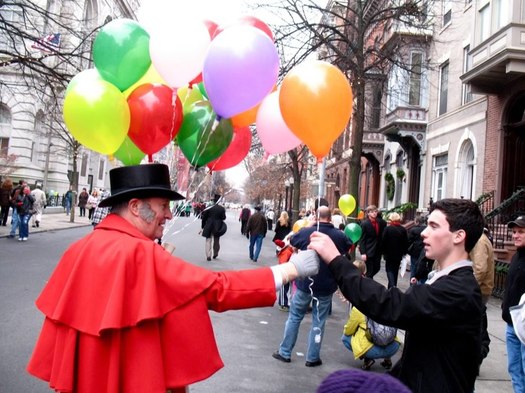 This date for this year's Thanksgiving was the latest possible, so "the holiday season" is a bit compressed this year. That means lots of events all packed into the calendar for December.
After the jump, we've pulled together a bunch of the annual local celebrations, lightings, streetwalks, concerts, and other holiday merriment.
This isn't a comprehensive list. If there's something you think should be listed, please share in the comments.
December 5: Saratoga Springs Victorian Streetwalk
Broadway in downtown Saratoga Springs will be closed from 5-10 pm for food, entertainment and all sorts of holiday stuff. tree lighting at 6 pm - free admission
December 5: Moscow Ballet's Great Russian Nutcracker at The Palace
"40 star-studded dancers perform Olympic-worthy leaps." 7:30 pm - $27.50 and up
December 5: Trans Siberian Orchestra at TU Center
Christmas rock, played with lasers. 7:30 pm - $33 and up
December 5-8: Holiday Greens Show at the Hart Cluett House
The 57th annual Holiday Greens Show, organized by the Van Rensselaer Garden Club and the Rensselaer County Historical Society. This year's theme is "'Twas the Night Before Christmas..." various times - various prices
December 6: It's a Jazzy Christmas at Massry Center
Popular annual concert of Vince Guaraldi holiday music (you know, as heard in the Peanuts cartoons). 6 pm - $20 / $10 students / kids 5 and under free (with ticket)
December 6: Ballston Spa Holiday Parade and Tree Lighting
Parade starts at 6:30 pm on Milton Avenue and ends in Wiswall Park on Front Street with Santa lighting the Christmas tree.
December 6-8,11-15: Schenectady Civic Players production of Santa Land Diaries
Based on the famous David Sedaris comic story of his time as a department store elf. "The Santaland Diaries is suggested for mature audiences." various times - $17
December 6-15: Classic Theatre Guild production of White Christmas at Proctors
Based on the film. various times - $18.50 / $15.50 students and seniors
December 7: Opening day for ESP ice skating rink
Rescheduled, and weather permitting. The rink will be open 11 am-8 pm through March. skating is free, skate rental $4 / $3 kids - free on Fridays and opening day
December 7: Santa Speedo Sprint
People dashing down Lark Street in scant, holiday-themed attire. For charity. sprint starts at 2 pm at Lark and Madison
December 7: Hudson Winter Walk
Warren Street is closed off for "a night well-known for its quirky take on the holidays and for the diversity of entertainment provided." 5-8 pm - free admission
December 7: Downtown Schenectady Holiday Open House
"Daily specials, refreshments, entertainment and other in-store activities will be offered throughout the afternoon in shops, restaurants and service businesses along the Jay Street Marketplace, State Street, Union Street, N. Broadway and S. Ferry Street." noon-5 pm
December 7, 8: Northeast Ballet's Annual Nutcracker at Proctors
With a principal dancer from the NYC Ballet. Saturday 7 pm, Sunday 2 pm - $20 and up
December 7, 8: ASO Magic of Christmas at The Palace
Popular annual Christmas shows. 7:30 pm / 3 pm - $25
December 7, 8: Albany Pro Music Christmas concert
Annual holiday concert for the choral group. At the Carondelet Hospitality Center in Latham. Saturday 7:30 pm / Sunday 3 pm - $25 and up
December 8: Historic Albany Holiday House Tour
"The tour moves from neighborhood to neighborhood highlighting the very best in Albany's architecture and ongoing preservation efforts." noon-4 pm - $25 / $15 students before December 4 | $30 / $20 students after December 4
December 8: Troy Victorian Stroll
All sorts of holiday whatnot in downtown Troy, including music, food, decorated store windows, and people in costume. Photos from 2012. 11 am-5 pm - free admission
December 8: New York State Museum Chocolate Expo and Holiday Gift Market
"Stroll through the galleries featuring a selection of locally crafted chocolates, confections, specialty foods, jewelry, body products and more." And then head over to the ESP (see below). 11 am-4:30 pm - $3 / kids 12 and under free
December 8: Holiday tree lighting at the Empire State Plaza
Music, skating, reindeer, fireworks, a really big tree. events start at 3 pm, fireworks at 5:30 pm - free admission
December 8: Holidelic at Helsinki Hudson
"Part dance party, part funk concert, part comedy show, the holiday-funk spectacular Holidelic features original holiday songs as well as loose, funk-infused adaptations of Tchaikovsky, "Frosty the Snowman," "Little Drummer Boy" and the like." 8 pm - $20 ahead / $25 day of
December 10: "The Messiah" at the Cathedral of All Saints
The Cathedral of All Saints Choir of Men & Boys, and a period instrument orchestra. 7 pm - $25 / $20 seniors / $15 students / $10 kids under 10
December 12-15: Melodies of Christmas at Proctors
Annual holiday concerts featuring the Empire State Youth Orchestra and Youth Chorale. various times - $15 and up
December 12: Trailer Park Boys "Dear Santa Claus" Tour at The Palace
Real, live Canadians in a Christmas show. 8 pm - $35 and up
December 13: Mendelssohn Club Holiday Concert at The Egg
An all-male choir established in 1909 playing its annual holiday concert. 7:30 pm - $18
December 14, 15: "The Messiah" at Troy Music Hall
The Albany Symphony will be playing "The Messiah" by Handel, as well as other "warm Baroque pieces." Saturday 7:30 pm / Sunday 3 pm - $19 and up
December 14, 15: Mountain Snow and Mistletoe at The Egg
The annual bluegrass holiday show. Saturday 8 pm / Sunday 2 pm - $24
December 15: Donny and Marie Christmas at the TU Center
As in, Osmond. 6:30 pm - $49.50 and up
December 16: National Lampoon's Christmas Vacation at The Palace
Spending the holidays with the Griswolds. 7 pm - $5 / $3 kids
December 17: Make the Yuletide Gay at Proctors
A film about a college student going home for holidays and back into the closet -- until his boyfriend shows up unannounced. Also: an ugly Christmas sweater contest. 7 pm - $5
December 20: It's a Wonderful Life at The Palace
Seeing it a big, old movie house like this is better than watching it on TV. 7 pm - $5 / $3 kids
December 20: West Point Jazz Knights at The Linda
Annual big band holiday concert. 7 pm - free (reservation required, and it's filled up in years past)
December 20-22: Christmas with The Rat Pack at Proctors
"Raise some holiday spirits with Frank, Sammy and Dean as they sing, dance and unwrap all of your seasonal favorites." various times - $20 and up
December 21: The Nutcracker at The Egg
A production by the Albany Berkshire Ballet. 1:30 pm and 5:30 pm - $38 adults / $25 children
December 21: 8th Step Sing Solstice! at Proctors
Concert celebrating "the Season of Light: Christmas, Kwanzaa, Hannukah, Las Posadas, Santa Lucia, Yule and many more around the world." 7:30 pm - $24 ahead / $26 day of
Until December 22: A Christmas Carol at Capital Rep
A new adaptation in which five actors play 20 characters. various times - $20 and up
____
Capital Rep, Schenectady Civic, Troy Music Hall, and Historic Albany advertise on AOA.
Hi there. Comments have been closed for this item. Still have something to say? Contact us.