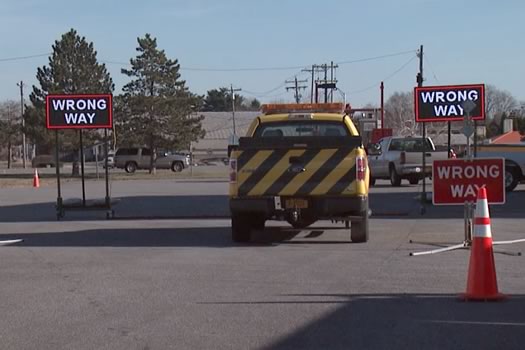 From the Annals of Highway Signage Technology: The Thruway Authority has developed electronic "wrong way" detectors/signs and will be installing them in places where wrong way drivers have caused crashes in the past. The first spots to get the systems: an exit on the Niagara Expressway (I-190) in Buffalo and exit on I-87/I-287 in Rockland County.
So how does an electronic sign "know" that someone is driving the wrong way? Cuomo admin press release blurbage:
These new signs are the latest development in the Thruway Authority's work to ensure that motorists have the highest level of safety while on the 570-mile superhighway. Doppler radar is used to detect vehicles traveling the wrong way and when identified, the sign flashes a customized LED message to alert the drivers of their error and instruct them to pull over and turn around when it is safe to do so. The sign will also trigger automatic alerts to other drivers on the Thruway's variable message sign system, and automatically alert the Thruway's Statewide Operations Center.
Doppler radar? Like the First Alert Storm Tracker Extreme Hype Doppler 10,000 Radar used by TV weather people?
Well, sort of. Doppler radar makes use of the Doppler effect (surprise) to figure out which way things are headed and how fast. (Skipping over the part about an Austrian guy and physics.) You totally know the Doppler effect. It's the reason a fire truck siren or train whistle sounds higher as it approaches, then lower as it moves away. Doppler radar makes use of that change in frequency (using microwaves, instead of sound) to figure out direction and speed.
The Cuomo admin says the sign system was developed by a Thruway engineer, Steve Velicky, and made by a pair of upstate companies. The Thruway's exec director said in a release today that the system will eventually be expanded to other sites around the state.
About three percent of fatal crashes on divided highways nationally are wrong way accidents, according to a survey of data from a chunk of the last decade by the federal National Transportation Safety Board -- that's about 350 deaths a year. As the NTSB reports, these sorts of crashes aren't necessarily common, but when they do happen they tend to be severe because it's often vehicles hitting each other head-to-head.
So maybe this system can help address the problem. But here's one potential complication: Drivers have to be conscious enough to notice the signs and do something about the warning. In the data set assembled by the feds, there were indications of alcohol involvement in about 60 percent of the wrong way crashes. And many of those drivers had really high blood alcohol levels -- .15 and above (the legal limit is .08). Yet another reminder that drinking and driving is a bad idea.
Bonus Thurway bit: The Cuomo admin reports that were 8.5 billion vehicle miles traveled on the Thruway in 2012, and there were 17 fatalities -- the lowest rate in the Thruway's 59-year history.
screengrab from NYS Thruway video

Say Something!
We'd really like you to take part in the conversation here at All Over Albany. But we do have a few rules here. Don't worry, they're easy. The first: be kind. The second: treat everyone else with the same respect you'd like to see in return. Cool? Great, post away. Comments are moderated so it might take a little while for your comment to show up. Thanks for being patient.