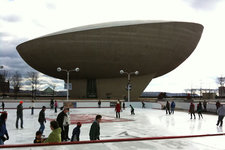 You know, winter really isn't making things easy for outdoor ice skating so far. (Shakes fist at the surprising not very cold winter sky.) And as a result, the opening of the Empire State Plaza ice rink has been delayed again.
The new kind-of-sort-of opening date: December 8, during the tree lighting event from 3-8 pm. Skating will be free (as always) and so will skate rental (as it is on Fridays).
OGS says the rink will then close from December 9-12 "as crews continue to improve the condition of the ice." And then, weather permitting, the rink will open permanently for the season on Friday, December 13 (yeah, luck just isn't with this thing this year).