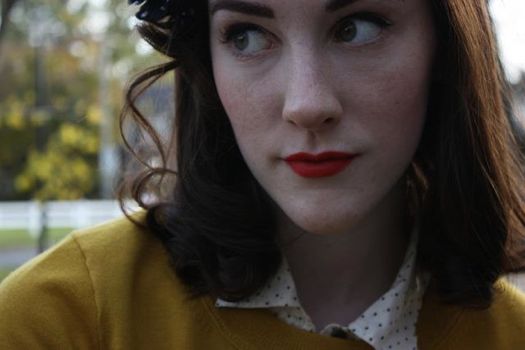 It's not about getting -- it's about giving. Everybody knows that. So instead of asking a handful of interesting people what's on their holiday wish list this year, we asked them what they'd like to give for the holidays this year.
First up: The always fashionable Kaitlin Resler shares a few items from her shopping list this year -- including pendants, whiskey... and socks.
So, the tricky thing about gifts this year is I'm full of ideas (for once), and most of the gifts are pretty well-suited to the people they're for but they're... uh... also things I want.
This year I'm trying to focus on gifts that are really tailored to the person they're for, and also, you know, kind of keep a few key gifts local because somehow that just seems more of the season, sharing things that are from home!
For the BFF-gal-pal who will dress up to go to Target and let's you crash on her sofa
A Crescent Moon Necklace from Lucia in Saratoga Springs, because it's just a little tiny bauble, and you already have one, so it's like old-school bff necklaces without the cloying sentiment. (Bonus gift: a pair of fleece-lined tights, also at Lucia, because nothing gets a gal through winter like the right legwear.)
For BFF's husband, who brews his own beer in their kitchen and invested in an old-time shaving kit
A bottle of Ironweed Whiskey from The Albany Distilling Company. To be totally honest, I know very little about this sort of thing, but this is one of those I-think-this-thing-is-cool-and-I'm-pretty-sure-you-will-like-it gifts.
For mom, who believes that there is no such thing as too many scarves or jewelry and who has infinite knowledge of all things textile
A gift certificate from Laura's Vintage in Glens Falls. It's one of my absolute favorite places to shop, especially with my mom, not only because the selection is super, but Laura is a joy to shop with! Bonus: It's worth a day trip for lunch!
For the co-worker you nerd-out with over TV shows the next day, medicating with sweets when tragic things happen to fictional characters
Macarons from TC Bakery or The Placid Baker. Food is one of my favorite things to gift to people, and my macarons are, so far, a disaster, so, you know. Support local bakeries by gifting their morsels!
For the boy you're dating/crushing on/whatever who dresses like it's log cabin weather and stops to say hi to every dog
A huge pile of wool camp socks from Lodge's in Albany. This is one of my biggest tips. Fat, thick, wool socks from Lodge's for like, $4. They are amazing. They're a great little add-on gift for anyone, but I've recently discovered that adults love a good pair of socks like nothing else.
Kaitlin Resler writes about all the pretty things at All This Happiness.

Hi there. Comments have been closed for this item. Still have something to say? Contact us.