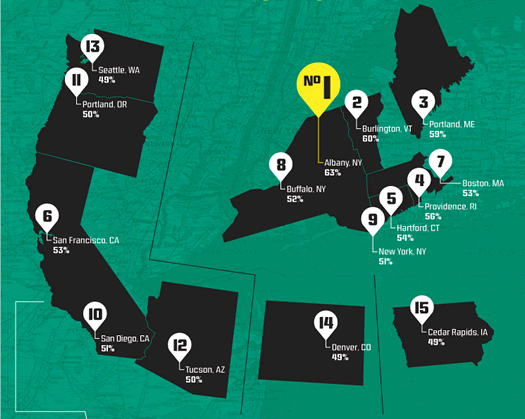 We don't necessarily put a lot of faith in these sorts of city rankings, but for what it's worth: Albany tops the chart as the most "post-Christian" city in a national ranking, according to survey analysis by the Barna Group. The research company bills itself as "a leading research organization focused on the intersection of faith and culture."
According to the survey, the Albany area headed the national chart with 63 percent of people tagged as "post-Christian." It appears the rankings were released this past April.
So what do they mean by "post-Christian." From a Barna explainer about its use of the term:
To shed light on this, the Barna team created an aggregate metric of post-Christian culture based upon 15 different measures of identity, belief and behavior. To qualify as post-Christian, individuals met 60% or more of the factors (nine or more out of 15 criteria). Highly post-Christian individuals met 80% or more of the factors (12 or more of these 15 criteria).
The 15 different measures range from "do not believe in God" to "have not donated money to a church (in the last year)" to "do not participate in a house church (in the last year)." You can see the full list at the first and third links above.
We can't figure out if these questions were asked of people of all religions or just people who somehow identified as having some sort of Christian background. You know, if you're Jewish, it's very highly likely that you "have never made a commitment to Jesus." Having the label "post-Christian" applied to you in that case seems, at best, wrongheaded. And it doesn't make you "irreligious." The same goes for many other beliefs.
Anyway, Albany was joined in the top 10 of the rankings by (in descending order): Burlington, Portland (Maine), Providence, Hartford, San Francisco, Boston, Buffalo, New York, and San Diego. The least "post-Christian" among the 96 cities surveyed: Knoxville and Shreveport, tied at 12 percent. Barna figures that 37 percent of the nation as a whole is "post-Christian."
Other perspective
For a different perspective on this general topic, here's the Pew Center's Religion and Public Life Project. A few possibly-relevant bits that we plucked from its stacks of info:
+ This area has a strong history of Catholicism -- there are current or former Catholic churches all over the place -- but Pew reported earlier this year that the percentage of people across the nation who identify as "strong" Catholics is at a multi-decade low.
+ And from a few years back: New York State ranked 39th nationally (out of 46 ranked states) for "importance of religion."
And from a 2012 Gallup report, many Northeastern states ranked as the "least religious". New York State was tied for 10th for the smallest percentage of residents tagged as "very religious" -- 32 percent.
[Thanks, Duncan]
Hi there. Comments have been closed for this item. Still have something to say? Contact us.