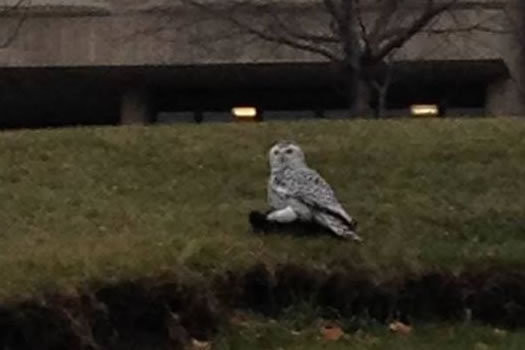 Spotted in Troy this week: A snowy owl taking down a crow. The photo, by John Cook, is from the RPI campus and was posted on EMPAC's Facebook.
Snowy owls are very cool birds -- but, you know, they don't typically show up here. At least, not traditionally. But for whatever reason, the last two winters have seen snowy owls popping up in all sorts of locations south of their usual range (the Arctic and Canada, in this hemisphere). [USAT] [Chicago Tribune]
So, why is this happening? From the Boston Globe this week:
"We don't know what's going on," said Kevin McGowan, an ornithologist who has spent 25 years at Cornell University's Lab of Ornithology. "There's no clear signal yet."
McGowan said the increased number of sightings could be a signal of something very good -- plentiful food leading to the birth of more of the birds than ever before -- or something very bad, such as climate change curtailing the food supply and forcing more owls to venture south to survive.
The visits have a caused a few problems. At the major NYC-area airport they were blamed for recent collisions with five airplanes, which had prompted the addition of the birds to airport kill lists. But the Port Authority reversed its decision and says it will now be capturing and relocating the owls. [NYDN] [NYT]
Hi there. Comments have been closed for this item. Still have something to say? Contact us.