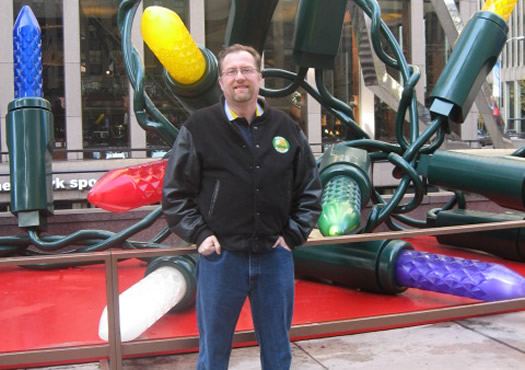 It's not about getting -- it's about giving. Everybody knows that. So instead of asking a handful of interesting people what's on their holiday wish list this year, we asked them what they'd like to give for the holidays this year.
Today's list, from Chuck Miller, is a nostalgic look at toys from Christmas past that still make great presents in the present.
I'm basing this list on the kinds of toys I enjoyed playing with growing up. These are the same toys and games that are still being manufactured today... and, believe it or not, still have a strong following.
Classic Electric Football set
Tudor Games still manufactures the classic vibrating electric football game, complete with gridiron and custom-painted players (or unpainted players, if you want to craft your own Albany Metro Mallers electric football team). Sure, you can plug in a Madden cartridge in your video game console... but try getting your defense to tackle that running back who's spinning in circles.
Revell model kits
Start out with some polystyrene parts, some clear glue in a tube, and the instructions. And before you know it, you've built a car, a boat, an airplane. Revell is the king of classic model kits, and they still manufacture challenging constructions today. And once you've mastered building the kits by following the directions... then you can go farther and start "kit-bashing" and building the vehicles to YOUR specifications.
Lionel trains
From the first time you assemble the three-railed track, set a locomotive and turn on the transformer, you'll be hooked. Lionel trains are easy to assemble, they have plenty of accessories that span over 100 years of manufacture, and today's modern Lionel locomotives can operate on wifi. Plus, you can build train layouts based on the two most popular children's train-related products: Thomas the Tank Engine and the Polar Express.
A vintage 1970s GE Wildcat phonograph
This was my first record player -- it was a four-speed "drop-changer" turntable that could play several records in a row. You could fold the record player up and carry it around like a briefcase. This turntable was my starting point for the love of music. If I had one right now... mmm...
A 1970s-era Mini-Boggan
A Mini-Boggan was a flexible alternative to a sled or a toboggan, and it was barely a plastic sheet with a yellow plastic handle. Climb on, get a push down the hill... and hold on for dear life. Mini-boggans are still the coolest sleds ever, and man oh man if I could get my mitts on one of those and find a decent-sized hill in the Capital District...
Chuck Miller is a local writer, photographer and Albany Times Union blogger, and every year he gives AOA one of his framed photographs on our birthday!
photo: Nicole Kitrick