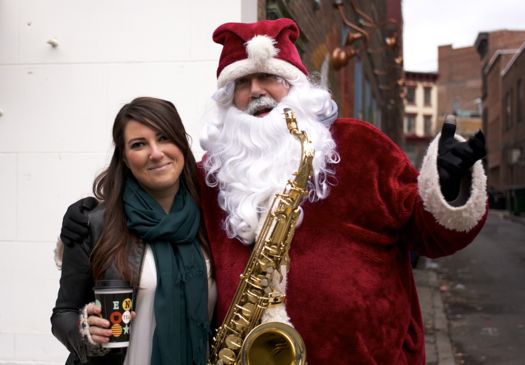 It's not about getting -- it's about giving. Everybody knows that. So instead of asking a handful of interesting people what's on their holiday wish list this year, we asked them what they'd like to give for the holidays this year.
Today's list comes from fashion and DIY blogger Miss Rosie O., aka, Alexa Bernstein.

This year I've decided to change up my whole gift-giving mentality. Instead of giving physical items I want to give experiences. I know how great it can be to get something you've been pining after, but doesn't that satisfaction go away after awhile... until you're onto the next thing? Spending quality time with the people in your life can be so much more satisfying in the long run.
Lucas Confectionery and Wine Bar
This one is for the woman who got me started on the vino -- my mother. I would love to treat her to a night out at Lucas Confectionery. Just the two us, one carafe of the Nero d'Avola and a heaping plate of their stinkiest cheeses... and maybe some sweets to end the night.
Circles
There isn't anything better than a shopping trip with your girlfriends... how else are you supposed to know if that dress looks good on you? With Circles wide variety of affordable and splurge-worthy clothes, accessories and cosmetics we'd all be sure to find something to bring in the New Year.
Saratoga Paint and Sip
Combine two of my favorite things -- wine and DIYing -- and you have Paint and Sip. Although I wouldn't say I have created masterpieces, I have had some of my best nights here. I would love to bring my best friend here after a great dinner in Saratoga and catch up on our hectic lives.
Albany Distilling Co.
Over the years I have become quite the whiskey connoisseur... and it all started with my brother. He has a taste for the finer things in life -- along with his drink choices. I've been itching to bring him to the Albany Distilling Co. for a tour and tasting ever since I went in the spring. I know he'd appreciate the process and I know I'd love seeing their cat, Cooper.
Troy Cloth & Paper
My Dad has really been getting in tune with his creative side lately -- he even joined the Albany Drum Circle this year! I can't think of a better father-daughter day than meeting up in Troy for a screen printing class at Troy Cloth & Paper. We'd each get to delve into our creative sides in a fun and inspiring atmosphere.
Alexa Bernstein is a twenty-something blogger living in Upstate New York. She chronicles her personal style, fashion, DIY inspiration and some of her other favorite things at Miss Rosie O. You can find her on Twitter at @AlexaRosieO and on Facebook at Miss Rosie O.
Hi there. Comments have been closed for this item. Still have something to say? Contact us.