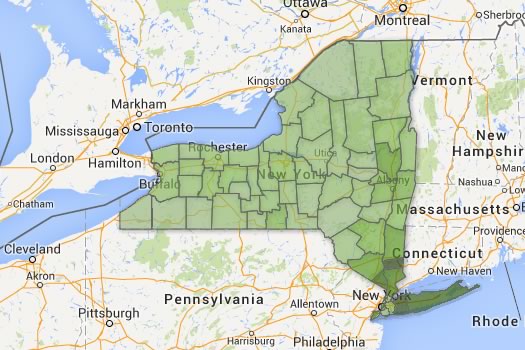 Map(s) of the day: New York State counties by median household income and percent of people living in poverty.
The Census Bureau released new income and poverty estimates -- for the year 2012 -- this month. So we put together maps of New York State based on the data.
Three large-format, clickable maps are post jump -- along with a few observations.
The maps are above in large format -- click or scroll all the way up.
A few notes and observations
+ Not surprisingly, the downstate counties lean very much toward the upper end for household income. Putnam County in the Hudson Valley topped the list at 92,950, followed by the two Long Island counties -- Nassau (92,543) and Suffolk (85,717), Rockland (81,517), and Westchester (77,166).
+ But downstate also has the county with the lowest median household income -- the Bronx, at 32,510. Also near the bottom: Kings County (Brooklyn) at 44,850.
+ Capital Region core median household income: Saratoga - 66,677; Rensselaer - 59,237; Albany - 57,951; Schenectady - 54,654.
+ Capital Region core poverty estimates (percent all ages/ percent children): Albany - 13.8/16.7; Schenectady - 12.4/20.1; Rensselaer - 11.6/16.7; Saratoga - 6.6/8.9.
+ Viewed in a certain way, Saratoga County is more like the NYC suburbs than its upstate neighbors. Its median household income is 8th highest in the state (just behind Manhattan). But what really sets it apart from the upstate crowd: its relatively low poverty rates -- at least half of the Capital Region's other three core counties.
+ The numbers for Montgomery County -- which is just the west of Schenectady County -- caught our eye. Its median household income estimate as second-lowest in the state, at 41,034. And 19.6 percent of residents were estimated to be in poverty -- and almost 31 percent of its kids.
+ The disparity between the upper and lower end of the county median household income chart is striking. The median household income in Putnam County is almost three times higher than that of the Bronx. Or even compare it to Albany County, which is 12th highest in the state -- Putnam's median household income is still 1.6 times that of Albany County.
All counties
Elsewhere
Last week The Atlantic put together a national look at this same data.
Hi there. Comments have been closed for this item. Still have something to say? Contact us.