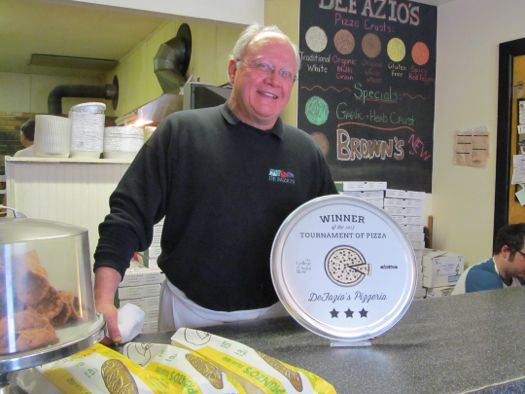 We started to refer to them as the Susan Lucci of the AOA Tournament of Pizza -- always good enough to be nominated but never quite able to take the award. But this year, DeFazio's of Troy took first prize in the TOP. And this week we stopped by to award them their first Tournament of Pizza trophy.
Owner Rocco DeFazio, who inherited the business from his parents, says having what it takes to make it to the finals as often as they have comes from a family philosophy -- the constant desire to improve things.
Well, that and the secret of the DeFazio's crust.

"We're never satisfied," says DeFazio. "We always feel we can do better. It's something my parents would always tell us. 'Only give your customers what you would be proud to serve to your family and friends.' So we're always trying to do better. For some people making one kind of crust really well would be enough, but we offer seven different varieties of crust, including whole wheat, multi-grain and a Brown's ale crust. We're always trying to improve."
It's the crust, DeFazio says, that is the secret to his pies. "Really good dough should taste like good Italian bread, I always thought. So we use my grandmother's Italian bread dough recipe -- not pizza dough, bread dough -- and a wood fired oven. The dough was configured to cook in a wood fired oven -- it's not meant for a gas oven."
The oven they use is the one DeFazio bought from Italy 30 years ago. "My parents, who had a wood-fired oven in Italy, said it's got to be wood fired. So I researched it. And 30 years ago there weren't that many places using wood-fired ovens in the US. Wood fired is better because you're cooking at a really high temperature, which sears your toppings, and you're cooking next to an open flame to give a little burned crust taste. It also cooks in half the time of a regular oven."
Don't tell him the water makes the difference in a crust. "It's the recipe, it's not just the water. Water is water... but it's the recipe ... the other things you put in."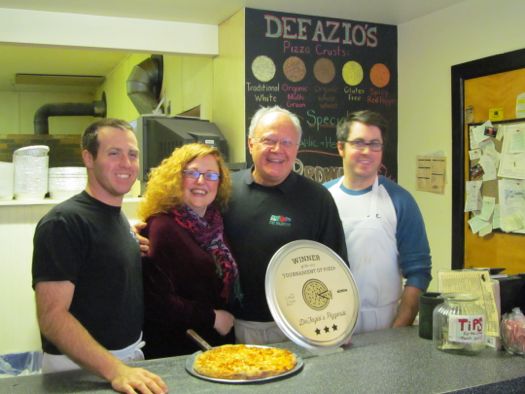 DeFazio says he apprenticed under his parents in the business for three decades. He started out as a teacher, but about 30 years ago he took a year off when his son was born to help out with the business. He's still there today, and his two sons, Matthew and Michael, are working alongside him.
"We're having fun," DeFazio laughs. "You tweak something, you see something new -- with the internet you can search the whole world for recipes and what people are eating in other places. We're trying new things, the Brown's ale crust, two kinds of pesto sauces, a Bolognese sauce my parents got the recipe for in Italy. We're always trying new things. And variety is what people want."
Rocco and his sons went back and forth over what to enter in the TOP finals this year, settling at last on the Buffalo chicken pizza that had posted the tournament's highest-ever score in the 2012 contest.
"Well," he says, "We always have this big argument (laughs) -- not an argument, a discussion -- between my two sons and myself. In the past we've been a little more creative. And we've made some really good pizza's that didn't win the tournament. Some of our customers will come in and say, 'We want that pizza, the one with the Kalamata olives -- the one that didn't win the tournament.' (laughs) This year we said you gotta keep it really simple."
"The gorgonzola cheese with the Buffalo [sauce] is delicious. We have so many good ones. My son loves the pulled pork with caramelized onions... we all have our favorites."
And for Rocco DeFazio? "My favoritore has no mozzarella -- just Romano cheese. Delicious."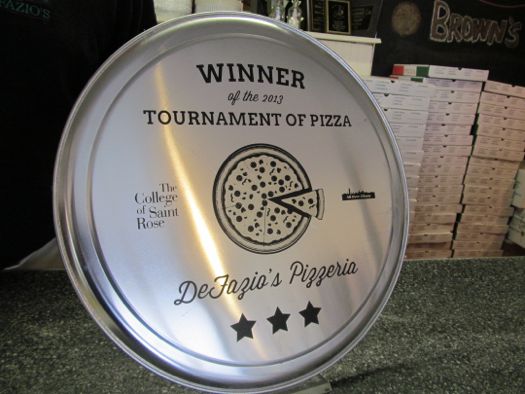 The trophy for this year's TOP was created by Troy Cloth & Paper in Troy.
Special thanks to The College of Saint Rose Graduate Program, sponsors of the 2013 Tournament of Pizza, and to the AOA judges and everyone who provided tasting space, shuttled pizza, and helped make the 2013 TOP possible.
Find It
DeFazio's
266 4th St
Troy, NY 12180
Hi there. Comments have been closed for this item. Still have something to say? Contact us.