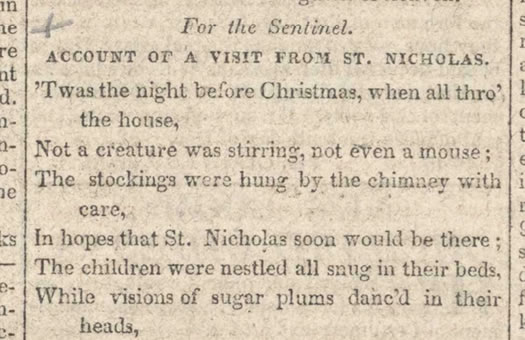 Tonight at the Rensselaer County Courthouse, there will be a trial -- with real attorneys, a judge, witnesses and everything -- to determine who actually authored the now-famous poem "A Visit from St. Nicholas," Clement C. Moore or Henry Livingston Jr (as mentioned). It starts at 6 pm and it should be a good time. (The event's been getting national coverage.)
As you know, the local link for this story of "Sante Claus" and "Dunder and Blixem" is that it first appeared in the Troy Sentinel on December 23, 1823. (See plaque in downtown Troy.) Thanks to Gramercy Communications, which had the archives of the Sentinel digitized, and trial organizer Duncan Crary (who else), the page from that issue of the Sentinel is online (a big pdf).
It's interesting to read the poem in context -- it's sandwiched between an article about honey and some wedding announcements. And the intro to the story hints to the controversy that would eventually arise over the poem's authorship.
Anyway, we thought it'd be fun to post the poem as it originally appeared on the page, like a newspaper clipping. It's after the jump. Almost two centuries later it's still a fun read.

image via Gramercy Communications
Hi there. Comments have been closed for this item. Still have something to say? Contact us.