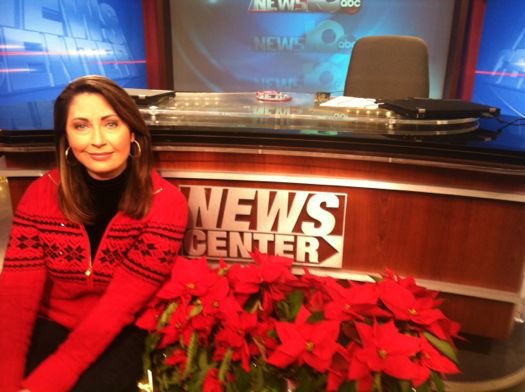 It's not about getting -- it's about giving. Everybody knows that. So instead of asking a handful of interesting people what's on their holiday wish list this year, we asked them what they'd like to give for the holidays this year.
Our final list comes from News10 anchor Lydia Kulbida.
Peace
Just a few days ago I tweeted "All I want for Christmas is a piece of the Lenin Statue toppled by protesters in Kyiv on the Euromaidan." So when AOA asked me to write about things I'd like to give this holiday season, money being no object, my first thoughts turned to family and friends demonstrating for change in Ukraine.
It may sound naïve and maudlin to want to give peace on earth, but when so many are spending night after freezing night in a peaceful attempt to change the government stance and move towards the European Union, only to be beaten in the middle of the night by riot police, I am spending my first gift wish on goodwill for all.
Time
Back to reality and closer to home, what else would I like to give? I used to approach holiday shopping like gearing up for battle: planning and mapping out strategies to maximize savings while minimizing time in stores. I LOVED finding the perfect gift, wrapping it up beautifully and couldn't wait to see the look on the face of the recipient as they opened it up. "Too many gifts" was not in my vocabulary.
But now, it's more about time. So let me give my husband time so we can cook dinner and watch a movie together more often. (I'll shop online when he's sleeping.)
The gift of caffeine
Finally you may be wondering, hey Lydia, how about some cheap gifts that I can buy quickly? Caffeine works wonders. In fact, my next plan is to give it to a stranger. I was waiting in a drive-thru last week for my large coffee with an extra shot when I heard the guy at the window say the next car is taken care of by the car behind it.
Kindness. Pass it on with caffeine and we'll all be awake and happy.

Lydia anchors the 4 pm and 6 pm news on News10 ABC and the 10 pm news on FOX23. She runs the Zorepad Ukrainian Dance Ensemble in Watervliet and helps make thousands of pierogis at St. Nicholas in South Troy. She'd like to tell you more about herself, but she's too busy getting last minute Christmas gifts. You can find her on Facebook and on Twitter at @Lydiaon10.