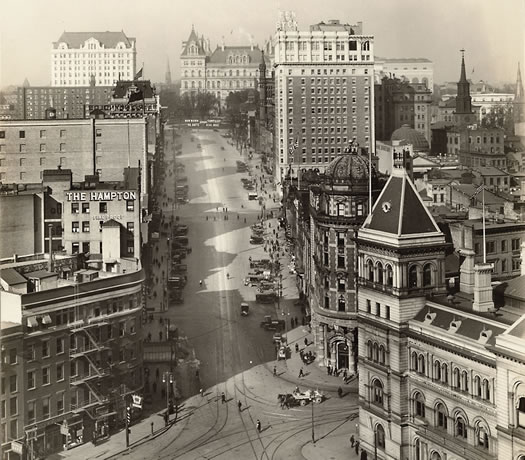 The Albany Institute shared this photo on Twitter this week -- it's a look up State Street in Albany in 1917, from the Delaware & Hudson Railroad Building. (The institute has a bunch of photos from its collection online.)
We always love to gawk at old photos and this one's no different. Three things about it:
+ Construction of the D&H building (now the SUNY central administration building) spanned from 1914 to 1915. So, in some sense, this view had only existed for about two years when the photo was taken. Because before that, there wasn't a tower from which to take the photo.
+ Look down toward the bottom of the photo, on the left side, near where State Street meets Broadway. See that awning and the restaurant sign? That appears to be right where the awning for Jack's is today. Jack's didn't move to that spot until 1937, but it looks like there was a restaurant there even at the time of this photo.
+ The streetcar tracks are visible on the roads in the photo, and there's a horse-drawn cart on Broadway. But also look closely along the sides of State Street -- yep, cars. (The Model T was about a decade old at this point.) And they're parking along State Street much in the same way they still are almost a century later.
There's a large-format, uncropped version of the photo after the jump.

The photo is above in large format -- click or scroll all the way up.

The Albany Institute advertises on AOA
photo: Albany Institute of History & Art Library
Hi there. Comments have been closed for this item. Still have something to say? Contact us.