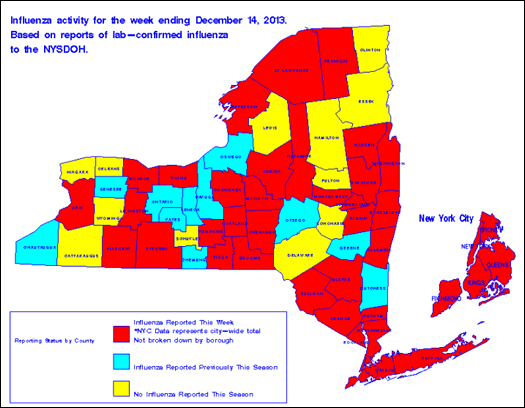 Something to think about doing soon: getting a flu shot.
The latest influenza surveillance report (a week old) for New York State has the flu now designated as "widespread" in the state. That is, there have been lab-confirmed reports of flu in many counties around the state -- 34 plus New York City. The Capital Region core counties are part of that group.
This year's flu season is yet cranking like last season, which saw a big surge in cases around the end of December and beginning of January. But the number of cases in the official state health department report is trending upward a bit statewide, and Google Flu Trends is reporting a similar upward trend for the state and the Albany area.
So, it's still not a bad time to get a flu shot. It takes the body a week or two ramp up its immune response to the jab. Here's the CDC's page with info about the flu vaccine, including a flu shot finder. Finding a place to get the vaccine is a lot easier now than it was just a few years ago -- many pharmacies now offer right in the store (and your health plan might even cover it).
map: NYS DOH, retrieve 2013-12-20