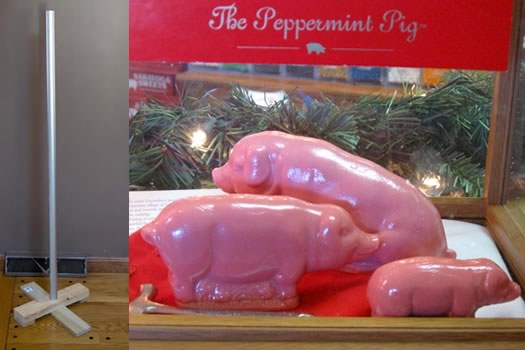 The drawing is now closed! But if you'd still like to share your grievance, go right ahead.
As we have in past years, we're celebrating Festivus again this year with a traditional Airing of Grievances. (You're on your own for the Feats of Strength.)
What are your small annoyances, complaints, or frustrations? Gather round the unadorned aluminum pole, let it rip, and let it go. You'll feel better.
But here's the deal: grievances can not include personal attacks, nastiness, or creepiness. (You'll know it when you see it.)
To balance the bitter with the sweet, as is tradition, we will give Peppermint Pigs to three people who air their grievances in the comments. The winners will be picked randomly.
The Editors have begun the Airing with their grievances, after the jump. We're looking forward to hearing yours.
Merry Festivus.
Important: To be eligible for the Peppermint Pig drawing, your comment must be submitted by 10 am on December 24, 2013. You must include a working email address (that you check regularly) with your comment. One entry per person, please. Winners will be notified by noon on Tuesday and must respond by 5 pm on December 26.

AOA Mary
This year I'm feeling particularly grateful for what I have: A super supportive husband, wonderful friends, family and the community of wonderful people we're in contact with through AOA. That said, there are a few things gnawing at me.
Insensitivity
I admit, I'm a little overboard with the empathy thing sometimes, but it seems like something the world could used more of.
The Happy Holidays/Merry Christmas Debate
Please don't yell at me for saying happy holidays because I don't want to offend someone who doesn't celebrate the same holiday I do. No matter what words I use, I'm wishing you joy.
Breyer's Ice Cream
Dear Breyer's ice cream people. Why, oh why did you mess with perfection? Please put my childhood all natural ice cream back the way it used to be.
AOA Greg
I'm thankful I don't have much to complain about, but...
Unshoveled sidewalks
No one likes to shovel snow, I get it. But not shoveling your sidewalks is unsafe and inconsiderate. And in many municipalities, against the law.
Drivers who don't stop at pedestrian crossings
If a person's waiting to cross at the crosswalk, and there's one of those signs telling you to stop if there's a pedestrian, you should stop. I'll give you a friendly wave for doing so.
The unreturned cart
As a former cart gatherer, this one probably irks me more than it should. But just put your shopping cart in the corral after you unload your stuff to your car. It'll take all of 30 seconds.
Festivus pole photo: Flickr user M. Keefe
Hi there. Comments have been closed for this item. Still have something to say? Contact us.