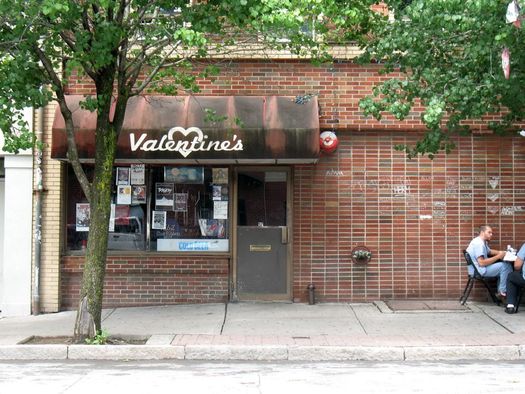 With the end of the year coming up, we thought it'd be fun to ask a bunch of people about some of their favorite/most interesting things from the 2013.
Today, a group of musicians, actors, and arts writers look back at some of their favorite Capital Region shows of the year.
Picking the best performance or artwork is so subjective. So we asked people who are very familiar with the art and music scene in the Capital Region to give us their personal thoughts on performances that moved them in some way. Here's what they said.
Answers have been lightly copyedited.
Music
Laura Glazer, Hello Pretty City
The show that I'll always talk about when I play his music on Hello Pretty City is Sam Amidon at the Troy Savings Bank Music Hall when he opened for Josh Ritter. I'd been intrigued by the album and played a few of the songs on the air. But all the songs really came alive for me once I heard him on stage with his violin and his hauntingly sung stories. He wasn't just playing music; he was making something up there.
 
Other shows in my memory:
+ Brown Bird at The Linda
+ Milo Greene and MaryLeigh Roohan at The Linda
+ Catherine MacLellan at Caffe Lena
+ Mozart Requiem and Solemn Vespers at The Cathedral of All Saints
+ Hand Habits at The Spotty Dog Books and Ale
+Â "The Year of the Rabbit" ballet with music by Sufjan Stevens at SPAC
+ Sea Wolf at Valentine's
+ Assateague and Viking Moses, at an apartment in Albany
+ Americanarama Festival of Music at SPAC
+ Local Harvest Festival at Washington Park with Rosary Beard, Olivia Quillio, Banshee Tree, and Lucky Jukebox Brigade
 
Louis Apicello, B3nson Collective and Sgt. Dunbar & the Hobo Banned
This past year, I had the pleasure of seeing Arturo Sandoval at Proctors in Schenectady. That was really a treat, as I had not seen him in over ten years. Aside from that, I would have to say that since we got the news about Valentine's closing the door on New Scotland, I have been super pumped for every show I have been able to go to -- up to and including this year's Funsgiving. Seeing Aaron Smith back on stage and one of the last Barons' sets in one night was awesome. I am excited for the new Valentine's, but certainly going to miss the old one.
Olivia Quillio, singer/songwriter
Gotta say Caffe Lena has really done it for me this year, between Sean Rowe's show earlier this month, and the Stray Birds in November, I've been in acoustic heaven. Getting to see some and play in some final shows at Valentine's, of course has been sentimental and wonderful. Also, Andrew Bird and Tift Merrit at the Bearsville Theatre, brilliant.
Chris Wienk, WEXT
This past year, I went to so many shows. I traveled to NYC to see Postal Service, where I decided that the Barclay Center is one cool building neighboring a very neat and unique neighborhood, but the acoustics are terrible. I went to the annual Non-Commvention in Philly where I got to see a bunch of cool showcases from artists hoping to catch our ears. Josh Ritter blew me away, but Sam Beam knocked me out.
We played host to 2013's LarkFest and Art On Lark. At Art On Lark, a day with twelve amazing Local 518 artists playing on two stages, every single act brought the A-Game. I know the musicians here are great, but that show made me realize why WEXT plays Local 518 music every hour. From the day starting with artists who would play two festivals that day (Ramblin Jug Stompers and Holly & Evan) to breakout stars Bridgette Guerrette, Zan Strumfeld, Hand Habits, and Party Boat to the bands that closed out the day (North and South Dakotas and The Dependents), you couldn't ask for a better day of music. Our only wish is that we could get every band from the 518 onto stages like those.
LarkFest? Where do I start? The day began with The Chronicles and Grainbelt. Both bands kicked the day off as if it were the culmination of a great day of music. More from the Local 518 showed off how awesome this area is. The Last Conspirators, Rodeo Barons, Charlie Watts Riots, Matt & the Bad Ideas, Barons in the Attic, and Molly Durnin's trio kept pushing us higher and higher. By the time I introduced Bobby Long, and KTG introduced Willie Nile, I didn't think it could get any better. But it did. My head still swims remembering how great that day was.
So, with those days, and how great the rest of the shows I saw at The Palace, The Egg, The Linda, Upstate Concert Hall and Valentines were, AOA has asked me to do the impossible: pick the best shows. My shows. Your shows. The lists vary for our own personal reasons, but near the top has to be these four:
1. Bryan Adams at The Egg
Even solo acoustic, Bryan still rocks with the energy of the 20 year old I saw when he first emerged on the scene, even before the "Summer of '69" heyday. Plus, he was funny as heck.
2. Diego Garcia at The Linda
When Diego returns in 2014 (fingers crossed), please don't miss him. He finished his show, took the final bow, but before he left the stage, he approached the microphone and said: "My mother told me to always end a show like that and go, but you have been so wonderful we can't stop now." And he didn't. They went on to play another 20 minutes. It was magic.
3. Fitz & the Tantrums at Upstate Concert Hall
Just wow!! And Capital Cities surprised me.
4. Phoenix at House of Blues in Boston.
I'd drive even further to see these guys. They're so cool. I love the French.
Keep rockin', and I hope to see you out there at a show -- soon! Hope you can make it to First Night Saratoga where we present Exit Fest. It's inside! And it'll be great!
Chris Wienk is the program director at WEXT Exit 977
KC Orcutt, Keep Albany Boring
It was my 2013 New Year's resolution to keep a list of every live act of music I witnessed throughout the year. My list is just over 100 different acts, with some missing pieces I'm sure, but I'd say I averaged out at about one show a week for the full year!
My standout shows for 2013 are across the board genre-wise but given the news that the original Valentine's will be destroyed in the near future makes it hard not to focus on my time spent at the venue on New Scotland. Most recently, the No Pepper: A Hardcore/Metal Farewell to Valentine's is the show that I keep replaying in my mind. Both floors of Valentine's played host to 11 bands who came together to toast to the old times and give well wishes to the next chapter of Valentine's. Standout performances that night for me came from HUSH, Maggot Brain, Start the Reactor and Bad Friends, and it was awesome to see both floors with packed crowds truly enjoying themselves. Another Valentine's show that really stands out to me was Railbird's EP release with Mitochi and Rawhead of Sub-Bombin' Records, who are definitely artists and a label to keep an eye out for in 2014. I also really enjoyed Aficionado's last show, as I first saw them perform in 2006 and have grown to be friends with the members, as well as have watched them grow musically over the years. For some larger capacity shows, I'd say Matt and Kim and Passion Pit at RPI Field House, and Delicate Steve and The Dirty Projectors at Skidmore were my top 2. (Keep an eye on Skidmore as they seem to announce big shows rather subtly.)
I hope 2014 is just as kind to us music-wise. 
Theater
Matthew Moross, The Daily Gazette
There was much good theater this year on Capital Region stages, but the most surprising emotional punch came from Barrington Stage's new musical Southern Comfort. Based on the 2001 Sundance Award winning documentary of Robert Eads, a female-to-male transsexual struggling with cancer and his need to create and celebrate his small hand gathered family. Creating something wonderfully moving that never cloyed or pandered to being just politically correct, the show featured a remarkable cast of seasoned staged vets -- including Annette O'Toole in a most sensitive and feisty performance. Here's hoping the show moves on to off-Broadway and beyond, in the meantime, the authors have uploaded the score to SoundCloud, where you can give it a listen.
Matthew G. Moross has been writing theater reviews for The Daily Gazette since 2009. He has been sharing his opinion on things artistic (and otherwise) for a longtime before that.
Aaron Holbritter, actor, director, and producer
It was another banner year for theater in the Capital Region, but this year the two best shows I saw were both right in the city of Albany.
In April, Capital Repertory Theatre brought us the 2010 Tony Award winning play Red by John Logan, a crisp and intelligent glimpse into the life of artist Mark Rothko as he begins work on his most commercial project, a mural for the soon-to-open Four Seasons restaurant in Manhattan. From the stunning performances to the impeccable design elements, I was running into friends and colleagues who had seen and were eager to discuss the show weeks after it had closed. With Rothko, brought to vivid life by the brilliant Kevin McGuire, in a story richly realized by CapRep artistic director Maggie Mancinelli-Cahill, Red is the best example of what quality local professional theater can bring to a community.
Speaking of community, on the other side of town, Albany Civic Theater's Second Avenue playhouse bore home to a November production of the taught, emotional 'night Mother, deftly directed by Nathaniel Beynon. The story shines a glaring spotlight on the nature of suicide, its causes and its effects, and could easily slip into a maudlin and uninspired dirge, but the cast of two (Joan Justice and Amanda Brinke, both riveting) led by Beynon, create a sense of the kind of urgency found in thrillers, with the multiple clocks on the walls ticking away as the story plays out in real time, shrewdly saving its biggest emotional punch for the end.
Our region has a too-often unrecognized embarrassment of riches when it comes to quality theater, sometimes overshadowed by the New York City and Berkshire big guns. As long as our local professional and community theaters continue to combine bold choices with top notch execution, as was surely the recipe for these two productions, great works will continue to thrive right in our backyards.
Aaron Holbritter is a local actor, director, and producer with credits at many local theaters (disclosure: Albany Civic Theater included). In 2013 he produced and directed a reading of Dustin Lance Black's 8 -- the play about California's Prop 8 trial at the Troy Savings Bank Music Hall, and spent three months with the Lake George Dinner Theater in their production of Moonlight and Magnolias. Currently he is directing Sherlock Homes: The Final Adventure at Schenectady Civic Players and is also the producer for WRGB's Melodies of Christmas.
Jeremy Buechner
I was able to see the SCCC theater department's production A Midsummer Night's Dream directed by Sandy Boynton. I'm not a fan of Shakespeare myself but from the minute the show started I was drawn in. The show was done in traditional Shakespearean style, with full lights, one set and spot-on period costumes. The show was fast paced and each young actor gave 115 percent. It was a true joy to watch them and it was also very bittersweet. As a former theater student of SCCC it's hard to know that was the final curtain for an amazing theater department. But it was a fantastic show to use for a final bow!
Jeremy Buechner is an actor and director and founder of Local Actors Guild of Saratoga.
Kat Koppett, The Mop & Bucket Company
Performed exquisitely the night we saw it by Yvonne Perry, White Rabbit, Red Rabbit!, written by Iranian playwright Nassim Soleimanpour, brilliantly explores themes of connection, isolation, social pressure, courage, responsibility and consequences. Both the audience and actor arrive with no knowledge of the script and co-create a unique experience every night. We felt so fortunate to have Albany bring this risky production to our region.
Kat Koppett is the training director at The Mop & Bucket Improv Company
AOA Mary
Yes, usually I like my theater a little bit more... what's the word? Substantial? And AOA Greg calls me a theater snob -- but I like to have fun at the theater, too. And the Park Playhouse production of Spamalot this summer was the most fun I've had at a Capital Region show in a long, long time. There wasn't a weak link in the cast, and Molly McGrath as The Lady of the Lake was as good a performance as any I've seen anywhere. If there were doors on Washington Park, she'd have blown them off. Park Playhouse has been one of my favorite things about Albany for a long time, but in the last few years they've outdone themselves. Spamalot was an incredibly well done rip-roaring good time.
Mary is a theater geek.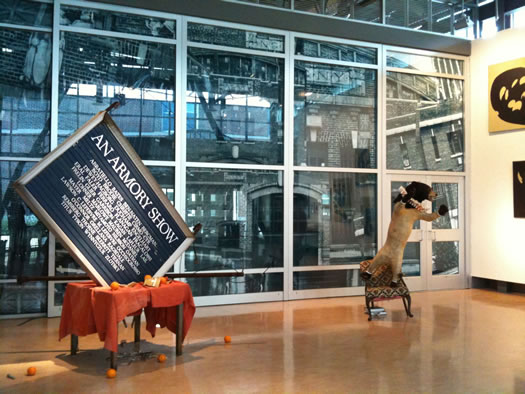 Art
David Brickman - art critic
The most interesting art show I saw this year in the Capital Region was "An Armory Show" at The Opalka Gallery of the Sage College of Albany.
Organized by Michael Oatman and Kenneth Ragsdale, both of whom also contributed their own original work, this extremely ambitious exhibition transformed the gallery into a series of vignette-like spaces that were jam-packed with a who's who of local and regional artists in all media. Honoring the 100th anniversary of New York City's notorious 1913 Armory Show, which made Marcel Duchamp a household name, this effort was no less confrontational or confounding -- making it a clear success in that regard.
I visited it at least half a dozen times and each time found work I hadn't really seen on the previous visits. Oatman's elegant video updates on Duchamp's "Nude Descending a Staircase" and Ragsdale's massive "Gypsum Clad" tank were among the highlights of this glorious mess, which also provided the setting for a first-rate original dance performance by the Ellen Sinopoli Dance Company. An amazing and fitting tribute to the world-class level of our region's creative artists, and a darn generous thing for Oatman and Ragsdale to have done. They are treasures.
David Brickman is a longtime art critic and former exhibiting artist who created the popular blog Get Visual (currently dormant). He now works for the NYS Department of Taxation and Finance and studies accounting in his spare time.
Hi there. Comments have been closed for this item. Still have something to say? Contact us.