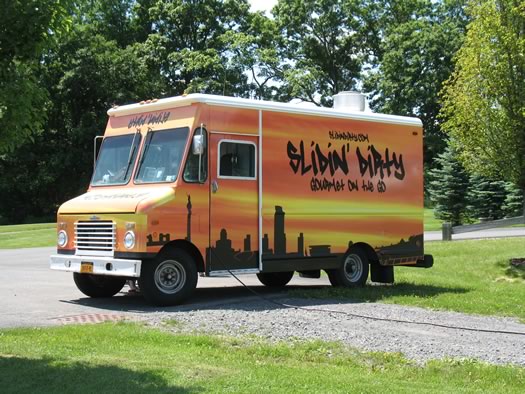 By Lauren Hittinger
Lauren & George are planning a wedding in the Capital Region, and they're chronicling the planning process here on AOA. Last time we heard from them they were checking out venues. Now they're trying to select a local caterer.
It is now less than six months until my wedding and I'm freaking out a little bit. My fiancé George and I wanted to have a fun and casual wedding, so we didn't rush planning and have been slow to make decisions. Now that a master list of over 50 wedding to-dos has been constructed and time is ticking, I'm quite anxious. Luckily we've already decided on one of the most important parts: the food!
Food is crucial to a wedding. Not only is a delicious meal one of the best ways to thank your guests for attending, the food and beverage is typically the biggest wedding expense. For those of you who tuned in last month, you know that my fiancé and I have booked our wedding venue: Indian Ladder Farms. We are lucky that our venue does not require certain vendors, but it also means that we have to do a lot of searching ourselves. After we secured Indian Ladder, I went on a mad search for caterers.
How much does it cost to feed a wedding of 75 people, anyway? The answer: It depends.
The options
Our first option was to have our wedding catered by Indian Ladder Farms themselves. Unfortunately, the catering manager wasn't available when we toured, so we were unable to discuss specific options. We did learn that the cost would start somewhere around $27 per person for a buffet of fairly typical food. I wasn't too wowed by that option, so I decided to keep looking.
Next, I looked into a couple of local catering companies. Mazzone is known locally for having amazing restaurants and events. They do catering for weddings, but the price starts around $40 per person. For 75 people that would be about $3,000 with service and gratuity included. And that doesn't even include the bar. Yikes!
A friend of mine used Black Diamond Caterers for her wedding. The listed prices for a wedding on their website start at $80 per person, which is even more expensive, but you can also order drop-off catering or customize menus. My buddy opted out of full-service catering and instead ordered trays of food and hired minimal service help to save some money.
To be honest, this all seemed way too expensive for boring meals of chicken and green salad. There had to be a better option that was more fun.
Food truck catering
I completely switched gears and went in search of food trucks. We knew that this type of catering would be memorable and, more importantly, fun and relaxed.
I was familiar with different options because of festivals and Troy Night Out. I unfortunately missed the Food Truck Festival in Troy, but the website still had listings for all participating companies. Although I combed through all trucks that had an internet presence, I was most interested with Slidin' Dirty.
Slidin' Dirty offers wedding catering both directly from their truck or full-service plated catering. I already liked them because of past experiences. As a vegetarian, I love that any of their sliders can be made without meat. It was a pleasant surprise when I found out their wedding catering started at less than $20 per person! The package we selected works out to about $26 per person with taxes and gratuity included. That covers appetizers, the meal, and dessert, which I think is a pretty good deal!
We combed through the Slidin' Dirty website and contacted Tim, the owner and general manager. He was very helpful answering our questions, and the food seems to be a delicious value for the cost. Everything has been pretty smooth sailing and uneventful so far.
Our guests can expect a full meal, but delivered in a unique way. We'll have a typical cocktail hour with passed hors d'oeuvres and some stations. We haven't worked out all of the specifics, but guests will get to go up to the food truck to get their dinner of sliders and a couple sides.
Right now we are trying to see if we can afford to continue the food truck theme. Snowman Ice Cream, a favorite spot of ours in Troy, has a truck that you can rent for events. Although we would love to have that, I think it might be an unnecessary expense, since Slidin' Dirty includes desserts in their package.
However, I'm really hoping we can afford a beer truck where wedding guests can pour their own beverages straight from the tap. How fun would that be?
I'm absolutely relieved to have another item off our wedding planning list. We're both so excited to have a different type of caterer for our wedding. Hopefully our guests will love it as much as we do!
Lauren writes about shopping, crafting, and living well on a small budget at The Thrifty Ginger.
Hi there. Comments have been closed for this item. Still have something to say? Contact us.