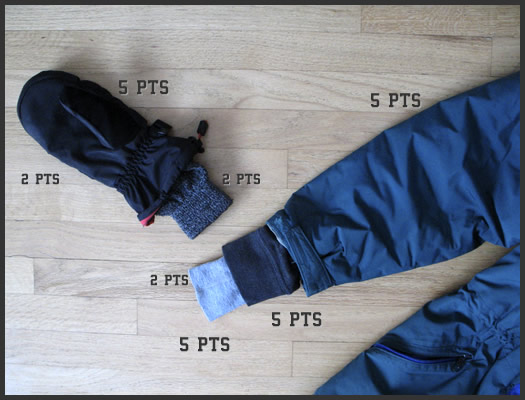 As you well know, the key to staying warm in very cold weather is layering. But in these cold, competitive times are you willing to stand idly by while your co-workers or neighbors out layer you?
No, you are not. To that end, here is a competitive layering metric to help you accurately score the way you've deployed your winter clothing.
A high score will definitively prove you have out layered the crowd. And that you're warm.
Award yourself 5 points for: Each layer you are wearing.
Award yourself 5 points for:
+ Wearing a hat.
+ Wearing boots.
+ Wearing something on your hands.
Award yourself 2 points each for:
+ Wearing a synthetic or wool base layer. Because you know that cotton won't be keep you warm if gets wet or damp. ("Radiant Orchid" may be the color of 2014, but wool is the new black.)
+ Wearing mittens. (Add 1 more bonus point if you do so proudly and without reservation. Because you're not ashamed to have warm hands.)
+ Wearing glove liners under your mittens. Because sometimes you need to exhibit some measure of manual dexterity.
+ A scarf.
+ A zip-able second outer layer. Because shoveling works up a sweat.
+ Wearing some sort of outer pants that are not jeans. Fact: Few people truly look hot in skinny jeans -- even fewer look warm in them.
+ Wearing synthetic or wool socks. See above about cotton. (Add 1 bonus point for wearing two pairs of socks.)
+ Waterproof footwear.
+ Those YakTrax things that keep you from slipping on the ice.
Award yourself 1 bonus point each for:
+ An especially dorky hat. Concerned you are not by hat hair.
+ A shamelessly bulky or un-chic scarf.
+ Covered ears.
+ Wearing a balaclava. But: Subtract a point if it's a creepy balaclava. Noted: Most balaclavas will be a wash in points.
Subtract points for:
+ Animal fur. Even if the fur is from a loyal (and very warm) companion. (10)
+ Uggs. (2)
+ A sweater with any sort of reindeer on it. (2)
+ A Snuggie. (5)
+ Not being able to put your arms down. (5)
Special 50-point super bonus for:
+ Just wearing whatever does the job and keeps you warm, not worrying about what you look like.
Hi there. Comments have been closed for this item. Still have something to say? Contact us.