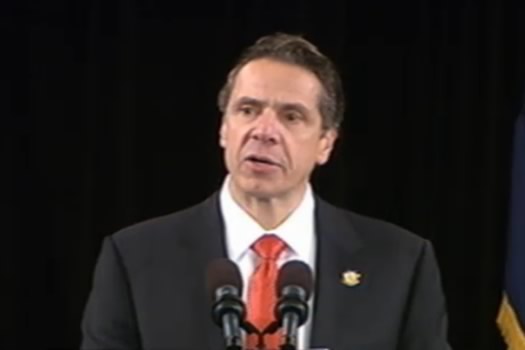 As you know, this year's State of the State speech was Wednesday. There will be all sorts of coverage dissecting for the next few days. This isn't that. This is just a few quick-scan highlights.
And here they are...
It's important to note that the State of the State is sort of the like the opening act in the ongoing yearly drama of New York State politics. Just because something is proposed doesn't necessarily mean it will happen -- in the way specified, or at all.
Taxes and local governments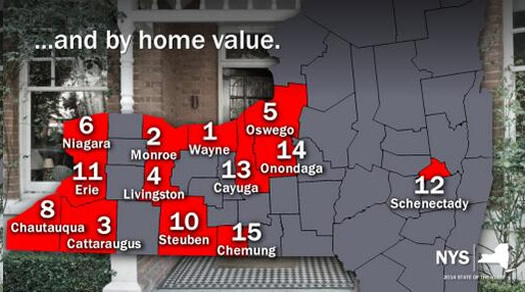 "New Yorkers pay the highest property taxes in the nation by dollars paid and by home value."
Cuomo pushed the package of tax cuts that have been floated over the last month, including cutting the state's corporate tax rate (and cutting it to zero percent upstate), lowering the rate (and raising the threshold) for the estate tax, the "circuit breaker" for low-income home owners, and the proposed two-year property tax "freeze" that's linked to the tax cap.
The governor focused on property taxes, pointing out that New Yorkers pay the highest property taxes in the nation, both in absolute terms (Westchester County) and by property value (upstate, including Schenectady County). And, as with many of Cuomo's target issues, he identified a dragon to slay: "the proliferation and expense of local governments."
"We've had too many local governments and we've had them for too long," Cuomo said Wednesday afternoon, and he expressed his frustration that since his time as state attorney general there have been just two local government consolidations in the state.
The thing about consolidation is that it always sound like a good idea -- for someone else's local government. So it will be interesting to see how Cuomo admin plans to lean on/squeeze/choke-hold municipalities to get them to take "concrete steps to reduce their costs through shared services and and/or consolidation."
Casinos
Cuomo on the plan for full casinos upstate: "Our challenge now is to make casinos a reality. Make it happen, make it happen fast, make it happen correctly."
And he laid out a hoped-for timeline to that end: requests for proposals for casino operators go out this March, bids in June, and selections by "early fall." The selections will be made by the Gaming Commission, and Cuomo announced he's appointing Hobart & William Smith College president Mark Gearan to head up the commission.
As you know, the Capital Region is slated to get a casino. So, an important question: How exactly are these selections going to be made?
Education
Classroom tech
Cuomo spent a chunk of his speech focused on education, and much of that chuck was talking about a proposed $2 billion "Smart Schools Initiative" bond on the ballot this fall that would pay for classroom technology upgrades.
It prompted what might have been Cuomo's best passage of the speech:
"There are great disparities in education. At some schools there are children on the internet, at some schools they don't even have a basketball net. At some schools they have sophisticated new computer systems on the first grade, there are some schools where the most sophisticated electronic equipment is the metal detector that you walk through on the way to the classroom. And that is just wrong."
Education advocates have been pushing for more state funding, though new computers probably aren't exactly (or at least, all of) what they've been looking for. There's a push for longterm changes to address disparities between rich and poor districts. (See: The effort by Schenectady's schools superintendent.)
Universal pre-K
Another big proposal: universal pre-K statewide. Not mentioned: how it would be paid for. Universal pre-K has been pushed by new New York mayor Bill de Blasio, who wants to high-income earners in the city to pay for the program there -- even if the state offered funding. It sets up the first political wrestling match between Cuomo and de Blasio.
Teacher bonuses
Cuomo also proposed a "Teacher Excellence Fund," that would award bonuses of up to $20,000 to "highly effective" teachers. That's a big chunk of money -- 27 percent of the average salary, according to Cuomo -- so it puts even more focus on how it's decided who's a "highly effective" teacher. It should be noted that NYSUT -- the big teachers union in the state -- has criticized the way the state's teacher evaluation system has been rolled out.
STEM scholarships
Also proposed: Free SUNY or CUNY tuition for high school students who graduate in the to 10 percent of their high school class, go into a STEM major, and then agree to work in to New York State for five years.
Reporting of racial and religious harassment
Cuomo talked about how troubled he was by a recent situation in Pine Bush, New York involving allegations of anti-Semitism in a school there. Not just because of the allegations, but also because he said state officials didn't seem to know about it. So he proposed: "If a school official in the state of New York is aware of a pattern of racial or religious discrimination or harassment, that state official is under an affirmative duty to notify the state Education Department and the police. Or the state official is no longer a state official."
Medical marijuana
This proposal got floated over the weekend in the New York Times -- basically a plan to allow 20 hospitals in a pilot project for using medical marijuana -- and Cuomo's mention of it didn't seem to alter what was floated. But he really didn't spend much time on it, and he didn't seem all that fired up about it.
Teens
Trying teens as adults
Cuomo noted that New York is one of only two states that allows 16 and 17 year olds to be tried as adults. "It's not right, it's not fair." He proposed a commission to change that.
Texting while driving
He also proposed changing the law so that any teen caught texting while driving will lose his/her license for a year.
Airports
Cuomo went through his big plans for infrastructure projects Tuesday while Joe Biden was in town. At the time, he hinted at this: A proposal for the state to assume "management responsibility" for the redevelopment of JFK and LaGuardia airports from the Port Authority (which means working something out with New Jersey).
As Cuomo said of the state of LGA: "It's a disgrace, my friends, and it's unacceptable, and it's going to change."
Like 2013 again
Women's Equality Act
Cuomo again urged the legislature to pass the package of women's equality legislation that stalled in the state Senate last year.
Ethics reform
Cuomo spent a chunk of the speech again pushing for ethics reform. As he said in addressing members of the legislature: "There's been a string of bad acts, almost on a daily basis. ... It reflects poorly on all of us, because people don't distinguish... it's just a politician [to them]."
Sometimes the ethics stuff is pitched as a Cuomo vs. The Legislature thing (because, um, it is), but he tried to head that off: "I do believe in the legislature, I do believe in this, in us. ... Government is limited by the lack of trust. The more trust, the more capacity."
But, you know, it's also a convenient stick to use against the legislature.
Not mentioned
Conspicuous by its absence from the speech: Any mention of hydrofracking. There's still no word when the Cuomo admin might announce some sort of decision whether to allow the natural gas extraction method in the state.
________
Video
Cuomo's speech starts at about the 37:00 mark.
Briefing book
____
screengrab: newyorkstateofficeofthegovernor livestream
Say Something!
We'd really like you to take part in the conversation here at All Over Albany. But we do have a few rules here. Don't worry, they're easy. The first: be kind. The second: treat everyone else with the same respect you'd like to see in return. Cool? Great, post away. Comments are moderated so it might take a little while for your comment to show up. Thanks for being patient.