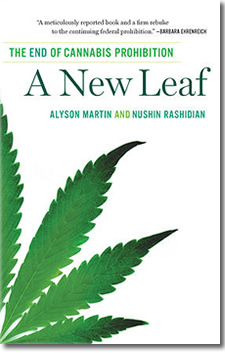 Could be interesting in light of recent news both here in New York and elsewhere: Journalists Alyson Martin and Nushin Rashidian -- the authors of A New Leaf: The End of Cannabis Prohibition -- will be at Saint Rose for a reading and discussion February 6.
Book blurbage:
In the first book to explore the new landscape of cannabis in the United States, investigative journalists Alyson Martin and Nushin Rashidian present a deeply researched, insightful story of how recent developments tie into cannabis's complex history and thorny politics. Reporting from nearly every state with a medical cannabis law, Martin and Rashidian enliven their book with in-depth interviews with patients, growers, doctors, entrepreneurs, politicians, activists, and regulators. They present an expert analysis of how recent milestones toward legalization will affect the war on drugs both domestically and internationally. The result is an unprecedented and lucid account of how legalization is manifesting itself in the lives of millions.
The Saint Rose event is at the Center for Communications and Interactive Media (996 Madison Ave) on February 6 at 7:30 pm (a Thursday). It's free and open to the public. The event is part of the Frequency North series.
Oh, and by the way: Alyson Martin is a Saint Rose alumna, from Feura Bush (we hear).
Also coming up in the Frequency North series: Jade Sylvan on January 30, 7:30 pm, at the Events and Athletics Center (420 Western Ave) She's the author of Kissing Oscar Wilde, "a star-crossed novelized memoir about love, death, and identity."