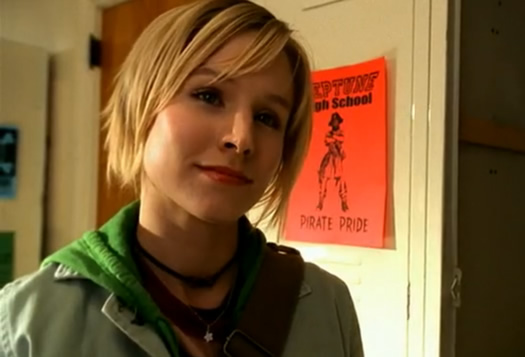 Snowshoeing, skiing, pond skating -- all fun things to do during the winter, and good ways to get out of the house. But you know what: Sometimes in the deepest part of winter you just want to stay inside, wrapped up in a blanket on the couch, and hibernate. Preferably with some good TV to watch.
We would argue the best hibernation TV is made up of series that can be block (or binge) watched. So here are a handful of our suggestions. It's just a few shows, so we're hoping that you'll add some of your favorites in the comments. One of your faves could be totally new to someone else -- and become a new favorite for them.
So, please share!
Veronica Mars
The premise for Veronica Mars sounds kind of cheesy: A teen private detective who solves crimes, big and small. But it has snappy dialog. Kristen Bell, as Veronica, is great. And the cast of the supporting characters is really fun. Take it from none other than Joss Whedon himself: "Best. Show. Ever. Seriously, I've never gotten more wrapped up in a show I wasn't making, and maybe even more than those. Crazy crisp dialogue. Incredibly tight plotting. Big emotion, I mean BIG, and charsimatic actors and I was just DYING from the mystery and the relationships and PAIN, this show knows from pain and no, I don't care, laugh all you want, I had to share this."
Of course, like most great shows, its run was cut short and oddly so. (Veronica walks off into the rain and... we never find out.) But Rob Thomas, the show's creator, raised $5.7 million on Kickstarter for a movie -- and it's set to be released this spring.
How to watch: The series just became available on Amazon Prime streaming.
Party Down
This comedy had two short seasons on Starz. Each episode of Party Down follows a catering team -- made up mostly of struggling/failed actors and screenwriters -- as they work a different party around LA. The cast -- Adam Scott, Lizzy Caplan, Jane Lynch, Ken Marino, Martin Starr, Ryan Hansen (with others joining in along the way) -- has great timing and chemistry, and there are a lot of fun guest stars. (It's another Rob Thomas production, so a lot Vernoica Mars people pop up.) Many of the episodes are really funny (the first one's a little slow) -- both haha funny and cringe funny.
For discussion: All the laughs aside, we've come to think that Party Down is also a criticism of the we-should-all-be-entrepreneurs/you-can-succeed-if-only-you-want-it-enough culture.
How to watch: It was available for a while on Netflix streaming, but no longer (sad trombone). So you'll have to get ahold of the discs.
Firefly
Joss Whedon is now king of the geek galaxy, but in the early 2000s he was mostly "only" known as the guy who created Buffy, which was for all its critical success, a minor hit on networks few people watched. But Firefly -- a space western set in the far future (really) -- was set to run on Fox and a wider audience awaited. But it bombed. Hard. In part because Fox showed the episodes out of order. (And, yeah, the whole space western thing maybe doesn't totally work.)
As a result, there's only half a season of Firefly. And it's really, really good. (The best thing Joss has ever made? Very possible.) There's the great writing and dialog you'd expect from a Whedon production, and the chemistry of the cast is excellent. Nathan Fillion is fantastic as the captain, a good guy who kind of wants to be a bad guy. (Someone, we can't remember who, once said Firefly is sort of what would happen if you made a show about Han Solo.)
How to watch: It's available on Netflix streaming. There's a also movie -- Serenity -- made after the show was canceled. It's good. And you'll want to watch it after the series. But it's not as good as the series.
Friday Night Lights
This show ran for four seasons to great critical acclaim, and apparently, almost no one watching. Maybe it was the premise that kept people away: It's based loosely on Buzz Bissinger's book about Texas high school football. But it's not really about football, it's more about the people of Dillon, Texas trying to find their way.
Friday Night Lights is now well-known for being underrated and unwatched, so it's not really either one of those things any longer. But we still encounter people who have never watched it. So if you haven't seen it, watch it. The show is really great. The acting and shooting is remarkably naturalistic. Kyle Chandler (the coach) and Connie Britton (his wife, a guidance counselor) have fantastic, realistic chemistry. And Tim Riggins is just... oh, Tim Riggins.
Also: You know how anti-heroes are so big on TV now? FNL is the opposite of that. You really want to root for these people. It's kind of retro and refreshing.
How to watch: It's available on both Netflix streaming and Amazon Prime streaming.
Top of the Lake
This short mystery series -- co-written by Jane Campion and starring Elisabeth Moss (and Holly Hunter in a small, weird role) -- was released in 2013 on the Sundance Channel here in the United States. Moss plays a detective in rural New Zealand investigating the disappearance of a pregnant 12 year old. Top of the Lake is intense and unsettling. And Moss's performance is great.
How to watch: It's available on Netflix streaming.
The Mind of a Chef
This PBS documentary/cooking series follows David Chang -- of the Momofuku empire, one of the most influential chef/restaurateurs in the world -- into kitchens and food sub-cultures around the country, as well as Japan and Denmark. While not all of the episodes of The Mind of a Chef are great (oh, look, they're eating ramen again), much of it is really interesting, if only because you get a sense of how Chang and other chefs think about and create food. Also: It's produced by the same crew that does Anthony Bourdain's stuff (Bourdain narrates), so it looks great.
How to watch: It's on Netflix streaming.
Orphan Black
This is a new Canadian/BBC show, its first season premiered last year on BBC America. It's about a woman -- well, women -- who's a clone, and the mystery that surrounds her "clone club." Really, the story and some of the production is just OK. But Orphan Black is worth watching if only for one reason: Tatiana Maslany, who plays the main character(s).
Yep, Maslany plays all the clones: the feisty screw-up, the scientist, the soccer mom, the (we won't give it away). And she's amazing. So distinctly does she play each clone that it's easy to forget that they're actually all the same person. The fact that Maslany wasn't nominated for an Emmy is yet more evidence that the Emmys are ridiculous.
How to watch: Orphan Black is available on demand from BBC America.
still: Warner Bros.
Hi there. Comments have been closed for this item. Still have something to say? Contact us.