The Port of Albany.
There's been a lot attention recently on the Port of Albany's growing role in the shipment of crude of oil -- and the potential dangers involved. More specifically, a company has proposed building a new facility at the port that could potentially open the way for a different type of oil to be shipped through the port, and that's raised some questions.
If you haven't been following this issue -- and we don't really know why you're not thoroughly caught up on petroleum product distribution systems -- here's a Q&A-style breakdown of some of the issues involved -- and why people are concerned.
Oil? We don't have oil here, so where is it coming from?
OK, let's start at the beginning, which in this case is out in North Dakota.
There's a subterranean geological formation there called the Bakken formation (it also covers parts of Montana and Canada). Oil reserves were discovered there more than half a century ago, but for much of the time since it wasn't economical to extract the oil because the reserves were trapped about two miles underground beneath a thick layer of shale (a type of rock). [Wikipedia]
Enter hydraulic fracturing, or fracking as a lot people call it, during the last decade. This extraction method involves injecting water, sand, and chemicals into the ground to fracture the rock above the deposits, allowing the oil to seep up through the cracks. Combined with horizontal drilling, fracking has made Bakken oil economical to recover. [Wikipedia]
That's prompted a big upswing in the extraction of Bakken oil -- daily production has roughly quintupled since 2007. Toward the end of last year the federal Energy Information Administration was projecting that Bakken production would soon top 1 million barrels a day, representing 10 percent of US oil production. That's pushed North Dakota into the #2 spot for crude oil production in the US, behind only Texas. [EIA] [EIA]
(As it happens, fracking hasn't only opened up new oil production, but also natural gas -- there's been a big upswing in natural gas production in the United States. If New York State approves fracking -- and there's no indication yet from the Cuomo admin when or if that might happen -- the technique would be used to extract natural gas from the Marcellus Shale in the Southern Tier. It's already happening in neighboring Pennsylvania.) [EIA]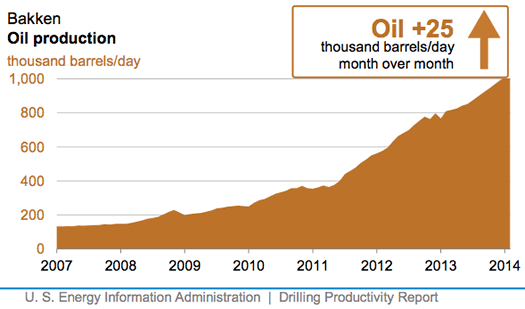 Zzzzzzzzz. Can we just cut to the part about why it's coming through Albany?
All this crude oil being produced in North Dakota has to be transported to refineries so it can be turned into various products (such as gasoline). But the refineries aren't in North Dakota, or anywhere close. So the oil must be shipped somehow.
Pipelines are one option, but the Bakken oil is coming from an area that previously wasn't a big producer. So companies are looking at building a lot of new infrastructure, which represents huge investments (like, billions of dollars), takes a while to build, and is subject to regulatory hurdles (see: the Obama administration's long review of the Keystone pipeline). [Politico]
The other major option: ship the stuff on trains, taking advantage of the rail infrastructure already in place. And yep, you guessed it, that's cheaper. So the amount of oil being transported by train in this country is way, way, way up over the last few years. [Businessweek]
And here's where we get to Albany. The Port of Albany is a connector between rail lines -- specifically a Canadian Pacific direct service route from North Dakota -- and shipping on the Hudson River. If you can get oil to the Port of Albany, you can put it on a tanker ship, and then send the oil down the Hudson River to major refineries along the East Coast (both US and Canadian). [Port of Albany] [CPR]
So, in short: All that oil in North Dakota has to go somewhere. And the Port of Albany happens to be a node in one of the cheapest networks for moving it.
Oh, so that's what those tanker train cars are?
Yep. You've probably seen them parked on the rail line along I-787 downtown. Most of those rail cars are a type known as DOT-111 tank cars, and they're often carrying crude oil. (Why are we so specific in mentioning the type of tank car? If a wonky technical reference is introduced in the first act, then...) [Wikipedia]
So what could go wrong?
In the worst case scenario, a lot. The prime example is what happened in Lac-Mégantic, Quebec last summer. A train carrying Bakken crude derailed and exploded in an enormous fireball. The explosion killed more than 40 people and took out at least 30 buildings. [Wikipedia] [MacLeans] [The Star]
As the amount of oil being shipped by rail has increased, so too have the number of accidents -- there have been 10 large crude oil spills because of rail accidents in the US and Canada since last March. [NYT]
Is the oil the concern -- or is that it's being transported on trains?
Well, both. There's concern about the rail shipments and whether adequate safety and security measures are being taken. There's also the issue of those tanker cars -- the DOT-111 -- which have come under criticism for being unsafe. A 2012 National Transportation Safety Board report tagged the car as having a "high incidence of tank failure." Chuck Schumer has been pushing for the cars to be replaced or retro-fitted. [TU] [NTSB] [Chuck Schumer office]
There's also the oil itself. A safety alert issued by the federal Pipeline and Hazardous Materials Safety Administration this month reported that "recent derailments and resulting fires indicate that the type of crude oil being transported from the Bakken region may be more flammable than traditional heavy crude oil." [PHMSA]
So: problem tank cars + potentially more flammable than usual oil + recent derailments = concern.
Why is this coming up now?
This issue has been simmering for a while, both around the nation and locally, in large part because of Lac Megantic. Chris Churchill over at the Times Union has been writing about it since last summer. [TU]
But this most recent focus seems to be the result of an application from a company called Global Partners -- which already operates at the Port of Albany -- to build a facility at the port for heating up oil so the crude can be loaded onto ships. The company had to apply to the city of Albany planning board for approval for the facility. That drew attention to the matter. And the company hasn't exactly been forthcoming about the sort of oil the facility will heat, so that's also raised some eyebrows -- because the fact that the oil would need to be heated for loading points not to Bakken crude, but rather the sticky crude oil from Canada's tar sands. [TU]
Other concerns?
Well, once people seem to learn more about this topic, the more concerns they seem to have. This video produced by Justin Mikulka is a good overview of those concerns, both general and local.
While the rails that transport this oil pass through many Capital Region communities, it's important to highlight Albany's South End, which is right next to the Port of Albany. It's an economically disadvantaged neighborhood -- tanker cars are parked right next to public housing there -- so there's a social justice element to this conversation because the voices of people from neighborhoods such as the South End don't always get heard as they should. But a community meeting there this week drew a lot of people and it sounds like people are getting organized. [Capital New York] [TU]
Another issue, and one you might not expect: Historian Don Rittner has pointed out that the proposed oil heating facility would be built on the site of Fort Nassau, the original Dutch outpost here (it even preceded Fort Orange). Rittner says the location could be an important archaeological site. [Don Rittner TU blog]
OK, but don't we need oil?
Yep, like or it not. The modern world basically floats on a layer of fossil fuel, and we all rely on oil in some form or another, either directly (gasoline for cars, heating oil) or indirectly (so many products are derived from petroleum). That doesn't necessarily preclude trying to find safer ways to produce and transport it. But, yeah, we all play some role in this.
What can I do if I'm concerned about this?
The proposed Global Partners facility at the Port of Albany requires a permit modification from the state Department of Environmental Conservation. The public comment period for that permit has been extended until April 2. And DEC scheduled a public informational meeting for February 12 at Giffen Memorial Elementary School in Albany at 6 pm.
The DEC commissioner said this week that the agency is looking at the Port of Albany situation "very carefully," though the agency doesn't have the authority to regulate the shipping of the oil (that's a federal matter). [Capital New York]
Contacting your local rep -- city, state, or Congressional -- can also be a good way to make it known you're concerned. Politicians on multiple levels seem to be paying attention to this issue at the moment.
Hi there. Comments have been closed for this item. Still have something to say? Contact us.