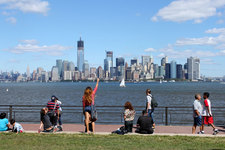 Earlier this week, Gawker posted a list of neighborhoods that were supposedly "the Williamsburg" of their respective cities. A lot of people floated the link our way because Albany is mentioned -- and Center Square is tagged as "the Williamsburg."
That seemed... not correct. But, whatever, the whole idea is silly.
So, of course, we then proceeded to make a list of Capital Region neighborhoods/places and their NYC neighborhood (or near NYC) analogs.
Just to repeat again: this is silly. It's ridiculous. These comparisons are all stretched. Pretty much nowhere in the Capital Region compares to places in/near New York City. That's not necessarily a bad thing, it's just... you know... they're very different places.
Center Square = Upper West Side
Liberal, upper income, near the park.
Delmar = Park Slope
Where people go to have children.
Downtown Troy = Williamsburg
Preferences and tastes are articulated very carefully, with exposed brick.
North Albany/Warehouse = DUMBO
Warehouse spaces finding new uses.
Loudonville = Upper East Side
Tony.
Downtown Albany = Financial district
Tall buildings, offices, commercial, packed with people during the day and for events, not so much the rest of the time.
Saratoga Springs = Greenwich
Country clubby. People ride horses.
Schenectady = The Bronx
Diverse, interesting food, people probably tend to think of it all as one place, even though it's not.
Niskayuna = Westchester
Wealthy, educated, a not-too-long commute.
Clifton Park = Long Island
The suburbs.
____
(Thanks, everyone.)
photo: Flickr user Prayitno/ more than 2 millions views: thank you! (cc)

Hi there. Comments have been closed for this item. Still have something to say? Contact us.