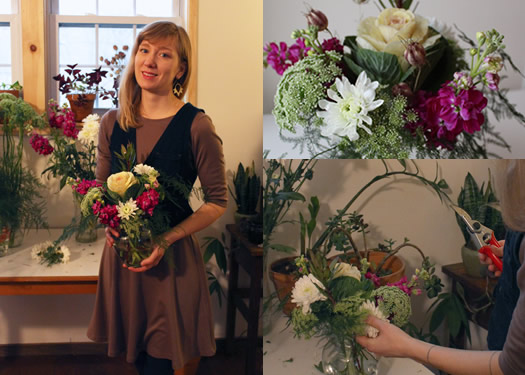 By Lauren Hittinger
Last summer I received a few bouquets through Flower Scout, a local grower and purveyor of fresh-cut flowers that was also running a CSA. Flower Scout has since morphed into flower sales, event flowers (weddings, for example), and other ideas.
I recently had the opportunity to chat with Colie Collen, creator of Flower Scout, about balancing creative projects, working for yourself, and Troy.
Can you tell me a little bit about Flower Scout?
Flower Scout is only a year old, and so in that way I'm still figuring out how it "works." I'm interested in seeing what the community-at-large wants, and imagining ways to fit those needs. It is really a response to my desire to grow and make things for my community. It itself is a growing thing, and sometimes hard to pin down -- it's a practice, in which I pay attention to plants and to the sculpture of floral arranging -- and a service, in which I make temporary things that beautify people's lives a little bit.
I like the idea that I can help others communicate their love, their sympathy, or their encouragement to one another. And I especially like to be outside, working physically, or "road-killing," as my flower-farmer friend Barbara says (aka stealing flowers from the roadside or the woods).
What do you mean by "stealing?"
Stealing, aka roadkilling, aka floraging, as I like to call it, is just utilizing vegetation that's growing on untended or barely-tended public lands. I have my spots, and I'm not disclosing them, but they tend to be paths that no one really takes anymore, abandoned fields, roadsides, old homesteads, and scrubby woods.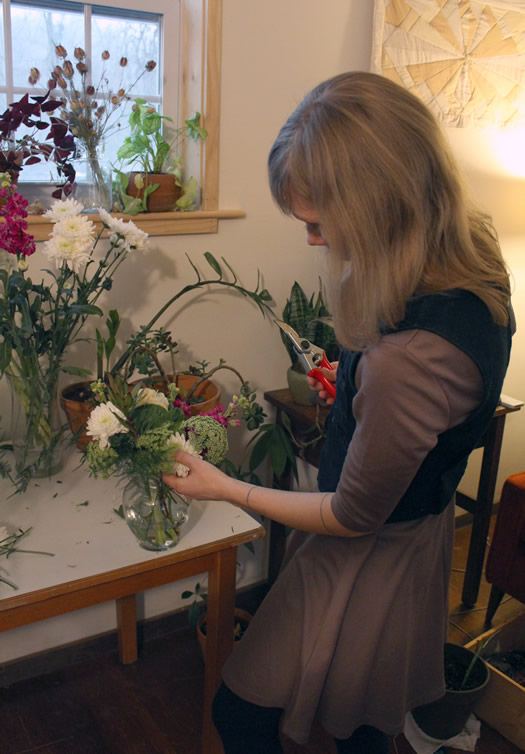 What inspired you to start a flower CSA?
In 2012, I apprenticed on a large CSA farm in Western Massachusetts, and it was incredibly educational (and hard, muscle-building, and discipline-building). I was asked to set some goals for future projects, and the assignment forced me to pay attention to the parts of the work I was best at. It also helped me realize that I really wanted to live in Troy, which I missed dearly.
We have a lot of great vegetable growers around here, and it just so happens that I love flowers, so I recognized a niche. Once I made it a goal, it took on a life of its own.
What did it take to start Flower Scout?
I still feel like I'm starting, so that question is hard to answer. I've been "studying" growing practices and basic farming skills for a few years, and so I know how to build soil, order seeds, and get things physically started. It has been harder to learn the business end of things, but certainly good for my brain.
What does it take to grow flowers year round here?
It takes a lot more than I have to grow flowers year-round. I don't think it's environmentally sound to attempt to grow year-round; it requires a lot of energy inputs. But you can extend the season with hoop houses, cold frames, and greenhouses. I don't have land or funds for hoop houses or a greenhouse yet, but I intend to work toward that goal.
What flowers have you had the most luck with?
Zinnias are incredibly easy to grow, as are cosmos. I had pretty good luck with sweet peas, though I didn't trellis them and they became a tangled mess. Irises are simple to grow, and wonderful in spring, and I found a trove of lily-of-the-valley, one of my all time favorites. Last year was an amazing year for flowering trees, too, so I had a ton of cherry blossoms, magnolia, and apple blossoms to work with. And some pretty stellar peonies and poppies, as well.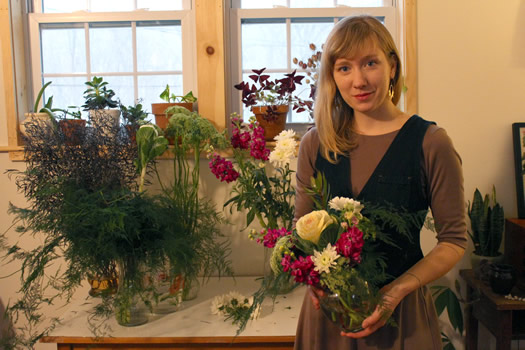 I saw that you had to tone down the CSA towards the end of last year. What are your plans for this summer?
This summer I'm working on a couple of weddings, and hoping to invest a lot of time into the garden --keeping good records, taking careful notes. I'll be on-call for anyone looking for arrangements for parties, picnics, surprises and the like, and I'd really love to have regular bouquets available at The Grocery in Troy. I might have a pop-up flower shop or two... I'm full of ideas. We'll see what happens.
What has been the most difficult thing and the most rewarding thing about starting Flower Scout?
The most difficult thing about Flower Scout has been the sometimes-burnout. Someday I'd love to do this full time: buy land, put up hoop houses, build a nursery, get some beehives -- the whole nine yards. But for now I only have two hands, and there's only so much coffee a person can drink in a day.
At the beginning of last spring I took a full time job, which I love, and so I've had to change the shape of Flower Scout to fit the space I have for it, rather than dedicating myself as thoroughly as I'd wanted to.
The best thing has been the support I've received. I don't mean to sound cheesy, but there's nothing so gratifying as trying something scary and new and finding that your friends and acquaintances come out in droves to take part in it. People I never knew before are now friends because of their enthusiasm for Flower Scout, and it's been the kind of creative outlet I relish. One that brings people together and makes even more scary, new things seem plausible.
Sorry, but I just have to ask. What's your favorite flower?
I love Queen Anne's Lace, which is ridiculous. It's a weed! But I also love honeysuckle, and people burn it in piles trying to get rid of it. I think I love anything that grows in massive amounts with little to no assistance. Lilacs! Lilacs, too.
This interview has been edited.
____
When Colie isn't working on Flower Scout, she's the coordinator for educational programming at the Honest Weight Food Co-op. To get in touch with Flower Scout for bouquets, event work, or more information, email Colie at flowerscoutfarm |at| gmail |dot| com.
Say Something!
We'd really like you to take part in the conversation here at All Over Albany. But we do have a few rules here. Don't worry, they're easy. The first: be kind. The second: treat everyone else with the same respect you'd like to see in return. Cool? Great, post away. Comments are moderated so it might take a little while for your comment to show up. Thanks for being patient.