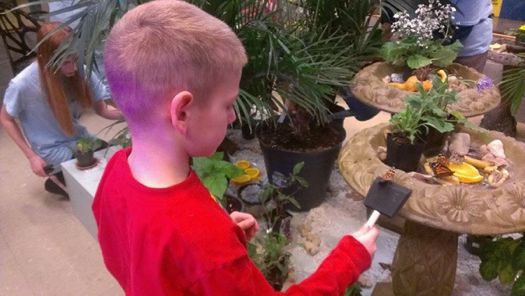 This week was brought to you by snowblowers, shovels, soup and soggy shoes. It was also brought to you by AOA advertisers like the MiSci -- which is offering a taste of spring with an indoor butterfly house open now through April 19.
If there's something you want to pass along to the AOA crowd, we can help get you started. It's easy and affordable. Just send us a note at advertising@alloveralbany.com.
Here's a list of folks who made AOA possible this week. Be sure to check them out when you can.
Stuff to do
+Live Nation, presenting Kanye West at the TU Center, February 19.
+ The Spectrum 8 Theaters presenting the Oscar Nominated Short Films, coming February 21.
+Advantage Transportation. They provided the pretty awesome party buses for the AOA Bad Boys, Broads and Bootleggers Tour, and they can provide limos, trolleys and party buses for your special occasion.
+ The Arts Center of the Capital Region offers a wide range of classes, from dance to wood working to digital illustration. You can register for spring classes today.
+The Mop & Bucket Company -- offering a full slate of classes throughout the year. Not a performer? Improv can help increase your creativity and openness in the workplace too. You can catch MopCo performances every Friday night at 8 pm at Proctors.
Food and Drink
+The Cheese Traveler, hosting a grilled cheese and soup party on Wednesday, February 19 at 7pm, at their shop at 540 Delaware Avenue. Three different types of grilled cheese sandwiches plus a warm, delicious soup. It's free but space is limited, so sign up soon.
+El Loco Mexican Cafe, something for everyone, including vegan, vegetarian and gluten free menu items.
+Sweet Sue's of Troy, lunches, sweets and catering.
+ Mingle on Delaware Ave in Albany. Be on the lookout for Fin the Fishmonger's "Fin"-tastic specials, including fresh haddock fish tacos & pan-seared whole trout. Their chef will be using local products to create new specials daily to keep the menu fresh.
+Smith's Restaurant has great food in an historic building. You'll want to check out the bar--it's from Tammany Hall.
+Brown's Brewing-- a sponsor of the AOA BAd Boys, Broads and Bootleggers tour. Relax with a cask beer at the new Malt Room.
+ The City Beer Hall, serving brunch starting at at 11 am on Saturday and Sunday.
Stuff to learn

+The College of Saint Rose, proud sponsor of the All Over Albany Tournament of Pizza. Offering 52 Graduate Programs with a purpose. Programs include: MFA in Creative writing, MBA, Computer Information Systems and more.

Stuff to Try
+Urban Maker -- art, clothing, sculpture, jewelry and photography, made here in the Capital Region. Urban maker is currently seeking artists and crafters to sell their wares in this online local marketplace.
+The Lofts at Harmony Mills, Manhattan style loft living in the Capital Region.
+Choose Cohoes -- Tourism, dining, entertainment and shopping in the Spindle City.
+ Albany Public Library's mobile app -- find locations and hours, check your library card account, learn about upcoming events, download eBooks, audiobooks, music and more. Check ISBN bar codes on books, DVDs and CDs to see if the library owns what you're looking for.
+ Get a FREE MONTH of Wink High Speed Internet Service from Tech Valley Communications. Enter this code when you sign up for service at: www.winkinternet.com: w1n87k0