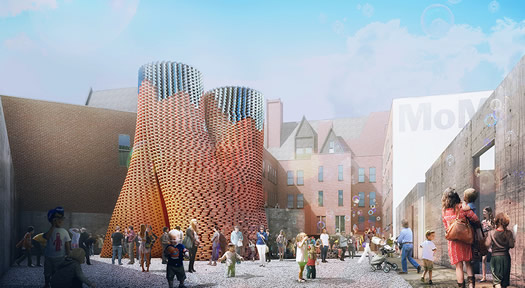 Like spreading mycelia, Ecovative's presence branches out: The Green Island-based company's "grown" building material will be used to make bricks, and those bricks will be used this summer for structures at MoMA's PS 1 facility in Queens. It's a collaboration with the architecture firm The Living.
From a MoMA press release:
The winning project, Hy-Fi, opens at MoMA PS1 in Long Island City in late June. Using biological technologies combined with cutting-edge computation and engineering to create new building materials, The Living will use a new method of bio-design, resulting in a structure that is 100% organic material. The structure temporarily diverts the natural carbon cycle to produce a building that grows out of nothing but earth and returns to nothing but earth--with almost no waste, no energy needs, and no carbon emissions. This approach offers a new vision for society's approach to physical objects and the built environment. ...
Hy-Fi is a circular tower of organic and reflective bricks, which were designed to combine the unique properties of two new materials. The organic bricks are produced through an innovative combination of corn stalks (that otherwise have no value) and specially-developed living root structures, a process that was invented by Ecovative, an innovative company that The Living is collaborating with. The reflective bricks are produced through the custom-forming of a new daylighting mirror film invented by 3M. The reflective bricks are used as growing trays for the organic bricks, and then they are incorporated into the final construction before being shipped back to 3M for use in further research. The organic bricks are arranged at the bottom of the structure and the reflective bricks are arranged at the top to bounce light down on the towers and the ground. The structure inverts the logic of load-bearing brick construction and creates a gravity-defying effect--instead of being thick and dense at the bottom, it is thin and porous at the bottom. The structure is calibrated to create a cool micro-climate in the summer by drawing in cool air at the bottom and pushing out hot air at the top. The structure creates mesmerizing light effects on its interior walls through reflected caustic patterns.
That's a pic on the planned structure above. The whole thing sounds very Ecovative.
[via Gizmodo]
(Thanks, AddiesDad!)
rendering: The Living