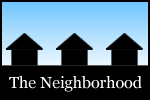 Among the topics in this most recent spin around the Capital Region's online neighborhood: relationships with Winter, snowmen of the lamented and excited varities, snowshoeing, Alton Brown, Bikenomics, curling, marathoning, mac-n-cheese bowling, brewing, brunch, bibimbap, choice at the supermarket, cottonwood, and robins.
Amy had a conversation with her pal Winter. And Silvia expressed her adoration for Winter.
Wayfarer Christine: "Personally I appreciate a really good snow storm. It drives me batty that the same people who complain that it is too hot all summer long, will complain all winter long."
Mr. Dave lamented the lack of good snowman snow this winter. (He's finding a way to cope.)
But Chuck encountered an excited snowman.
Jen shared some of her favorite local spots to snowshoe.
Jackie broke a snowshoe trail through Moreau Lake State Park.
Jon recapped his experience at the Alton Brown show at Proctors.
Ethan took three things applicable to Albany from Bikenomics.
The Albaniana family checked out the open house at the Albany Curling Club.
Katelyn persevered through 16 miles of a relay marathon on the UAlbany campus.
Steve shared results from this year's Mac-n-Cheese Bowl.
Albany Jane recapped the recent Capital Region Coffee Collective brew method taste test.
J+R concluded the brunch at Umana could use some fine tuning.
It sounds like Jerry was a bit underwhelmed by the bibimbap at Seoul.
Daniel had some thoughts about choice at the supermarket.
Carl shared that time Albany tried to ban cottonwood trees. (Because it worked out so well.)
And Rob wondered if the robins are an early sign of spring.
Hi there. Comments have been closed for this item. Still have something to say? Contact us.