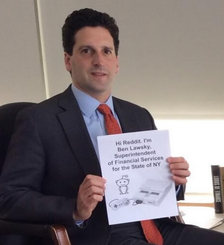 The modern world is: The head of New York State's financial services watchdog agency taking questions about cryptocurrencies -- such as Bitcoin -- on Reddit. From an AMA today with Ben Lawsky, superintendent of the state's Department of Financial Services:
Reddit0829
Mr. Lawsky,
Thank you for joining us here. As a Bitcoin user, I truly appreciate your concept of Open Source Regulation, and I think there is a lot for both the Bitcoin community and regulators to learn here. I have a couple simple questions for you:
Do you believe that Bitcoin, or the underlying technology, will change the world for the better?
Do you want to see Bitcoin, or the underlying technology succeed? In your experience, do most of your peers share this stance, or is the general perspective much more bleak?
BenLawsky[S]
I think Bitcoin or the underlying technology has a lot of potential on numerous levels. As Professor Athey said at our hearings, even the experts don't know today how the technology will evolve and what it will ultimately look like. But I do think it holds a lot of promise (if money laundering can be adequately addressed), both on its own and in terms of causing existing payments system technologies to up their game. I've personally evolved a lot on the issue the more I have learned. I wouldn't compare it to a Rocky-IV-final-scene about-face and it has taken time for all of us at DFS to get our minds around it, but certainly our views have changed.
Lawsky also made a Dune reference (because the internet), apparently doesn't mind the title "supernintendo", and took some helpful tips about desk ergonomics.
If you're wondering, like we were, why a New York State agency is attempting to figure out regulation for stateless, decentralized virtual currencies that most people haven't heard of, Lawsky took up that question in the AMA and during a recent talk in DC. (An excerpt from the talk is after the jump.) The short version of Lawksy's explanation: New Yorkers send a lot of money to other countries using traditional wire services, which have high transaction fees -- and virtual currencies hold the potential of reducing those costs. And: Regulators are worried about money laundering and terrorism.
The main takeaway we got from this AMA is that the future will be people on the internet talking about money and complicated financial instruments in ways most of us will probably never understand. Which is to say, it's probably a lot like the present.
Here's that clip from Lawsky's speech (link added):
While I don't think anyone would call virtual currency a systemic risk at this point, it does represent a good example of the necessity of innovation (not only in the technological sphere), but also in financial regulation.
DFS - like other state financial regulators - are responsible for oversight of what are called "money transmitters." If you're not familiar with that term, Western Union and Moneygram are two of the largest examples.
Indeed, when people say the word money transmission, they usually think of - if anything at all - firms that were formed more than 150 years ago when our country was still exploring the western frontier.
I seriously doubt that the people who wrote those statutes ever contemplated the notion of the Internet; let alone crypto-currencies; let alone a crypto-currency based on an internet meme featuring a dog.
Nonetheless, DFS has serious concerns that certain virtual currency firms may be engaging in money transmission - which would mean that our Department has a specific legal responsibility to license, examine, and regulate those firms if they are offering their services to New Yorkers.
Moreover, there have been serious and documented concerns (which I'll discuss in greater detail later), about the use of virtual currencies for illicit activity and money laundering.
As such, in August 2013, our Department launched an extensive inquiry into the appropriate regulatory guardrails to put in place for virtual currency firms.
____
photo: @BenLawsky
Say Something!
We'd really like you to take part in the conversation here at All Over Albany. But we do have a few rules here. Don't worry, they're easy. The first: be kind. The second: treat everyone else with the same respect you'd like to see in return. Cool? Great, post away. Comments are moderated so it might take a little while for your comment to show up. Thanks for being patient.