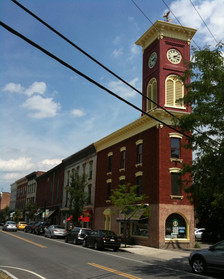 Amelia emails:
We are looking at starting the home search and wanted input from AOA. Where is the best small towns, villages and quaint and charming suburbs in the capital region to settle down and start a family? We are looking at staying approximately 20 minutes around Albany and want a more liberal town with low taxes. Is there such a thing?
Having a detailed wish list is a good idea, but the thing about picking a place to live is that you'll almost always end up having to make trade-offs. Want charming? That often means paying more. Want small? Maybe that means living farther out. And so on.
We've come to think that having a wish list is a good way of prioritizing what you want -- and what you're willing to compromise on. Because there will be compromises.
So... got a suggestion for Amelia? Please share! Non-redeemable bonus points for a short explanation for your suggestions. And even if you don't have a specific place in mind, suggestions on how to go about figuring out the right place can be helpful.

Hi there. Comments have been closed for this item. Still have something to say? Contact us.