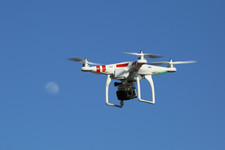 Could be interesting: "Game of Drones," an event at Albany Law March 20 focused on discussing the "uses and potential abuses" of drones in this country and abroad. Blurbage:
Presented by the Albany Government Law Review, Game of Drones will bring law professors, practicing attorneys and other experts together to discuss such topics as the use of drones for targeted killing, domestic drone use, and drone journalism.
Nicholas Rostow, Distinguished Research Professor at the National Defense University, will deliver a keynote address on the use of drones within the context of the laws of war, as well as the President's constitutional authorities.
The Albany Law event is from 1-5 pm on March 20 (a Thrusday), and includes two panel discussions and the keynote. (Speaker list at the link.) It's free and open to the public.
Drones have gotten a lot of attention over the last few years because of how the US has used them in places such as Afghanistan. But the use of unmanned aerial vehicles in this country will also probably be a not-small topic of conversation eventually, as local police agencies, media orgs, and regular citizens make use of them.
There was an interesting Verge article last year about how regulation of drones is lagging behind their current and potential uses. And last year there was a bill introduced in the New York State legislature that would have limited how drones could be used.
When you think "drones," you might first think of surveillance and security state type stuff (and not without reason). But there are a lot of potential uses for the devices. We met a pro photographer last year who had mentioned he hoped to use them for commercial aerial photography -- it's just that the rules weren't clear about what was allowed.
ALS advertises on AOA.
photo: Flickr user Don McCullough (cc)

Hi there. Comments have been closed for this item. Still have something to say? Contact us.