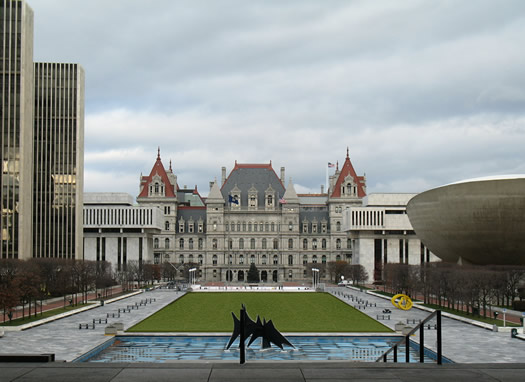 What if the Empire State Plaza was a bit... greener?
Rob passed along this 1997 article about Albany from the Baltimore Sun today. The headline: "Rockefeller's big dream realized Empire State Plaza: Locals who once scorned Albany's enormous government complex are grudgingly giving it some of the credit for the city's upscale renaissance."
It's kind of interesting to read because as much as things change -- they don't really seem to change all that much. You'll recognize a lot of themes from any recent discussion about downtown Albany.
But this part caught Rob's attention -- and we thought it was an interesting bit, too (emphasis added):
City officials complain that the plaza, while bringing tourists to downtown, has been less of a draw for residents of Albany and surrounding towns, such as Colonie, Troy and Rensselaer. The officials are proposing to replace one of the plaza's reflecting pools with a massive grass lawn, to encourage family picnics.
"We'd like to humanize the plaza so people feel like they can approach," says Leveille. "We need to do the same thing with the river."
The ESP with a giant, green lawn instead of one of the reflecting pools? What would that look like? The above (bad) photo illustration gives some sort of general sense.
We're not sure what to think about that -- but it's an interesting thing to tumble for a minute or two.
(Thanks, Rob.)
Hi there. Comments have been closed for this item. Still have something to say? Contact us.