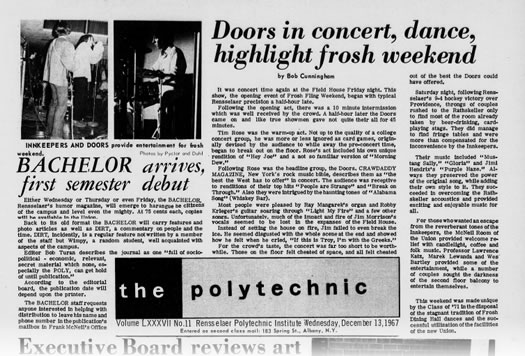 Check it out: More than a century of back issues of the RPI student newspaper, The Polytechnic, have been digitized and placed online. They're now available through RPI's online digital collections portal.
It's usually fun to flip through old newspapers, it's true here, too. Here's one example from the archives, a story we'd heard about before, but the sarcasm of the contemporary account adds something to it. From the December 13, 1967 issue, an article by Bob Cunningham about The Doors playing a concert on campus:
It was concert time again at the Field House Friday night. This show, the opening event of Frosh Fling Weekend, began with typical Rensselaer precision a half-hour late.
Following the opening act, there was a 10 minute intermission which was well received by the crowd. A half-hour later the Doors came on and like true showmen gave not quite their all for 45 minutes. ...
Following Rose was the headline group, the Doors. CRAWDADDY MAGAZINE, New York's rock music bible, describes them as "the best the West has to offer" in concert. The audience was receptive to renditions of their hits "People are Strange" and "Break on Through." Also they were intrigued by the haunting tones of "Alabama Song" (Whisky Bar).
Most people were pleased by Ray Manzarek's organ and Robby Krieger's guitar soaring through "Light My Fire" and a few other songs. Unfortunately, much of the impact and fire of Jim Morrison's vocals seemed to be lost in the expanses of the Field House.
Instead of setting the house on fire, Jim failed to even break the ice. He seemed disgusted with the whole scene at the end and showed how he felt when he cried, "If this is Troy, I'm with the Greeks."
For the crowd's taste, the concert was far too short to be worthwhile. Those on the floor felt cheated of space, and all felt cheated out of the best the Doors could have offered.
The online archive of Poly issues stretches back as far 1869, with the bulk from 1885-2001. It includes more 41,000 pages. (We can't imagine how long that must have taken to scan all of those issues.)
Oh, and among the ads in the collection's first issue, from September 25, 1869: "Charles F. Lucas, Confectioner, Ladies and Gentlemen's Restaurant, No. 12 Broadway, Troy, N.Y."
image: The Polytechnic December 13, 1967, Rensselaer Digital Collections
Hi there. Comments have been closed for this item. Still have something to say? Contact us.