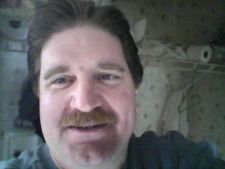 My Exit Mondays are back on WEXT. Every Monday a listener gets to program an hour of music. It's a way to check out what's in someone else's collection, discover something new or rediscover something you'd forgotten.
Tonight's My Exit goes from rock and roll abandon to classic Chrissy Hynde, and includes a song the DJ once listened to 50 times in a row.
Who?
Hi, my name is Tom Favata, proud to have the best wife and son in the world. I'm also a proud career firefighter. Music has always been the way to express my heart. I've been playing the drums for a couple of years and am always in search of jam mates.
How would you describe your taste in music?
I like tough, soulful rock 'n roll, new and old. Listening to 97.7 is like visiting a friend who likes great music, and sharing your collections (only without having to make time for this event). WEXT never plays a song out. It's a distinct honor to get this DJ hour, I don't include any played-out songs. Enjoy.
A few songs from Tom's My Exit:
"Plump" by Hole
Prime example of pure rock 'n roll abandon, trickier to attain than you may think. There's been few songs to actually achieve this, but pioneers were the Stones' "Get off my cloud" and Little Richard's "Long Tall Sally."
"In the Deep" by Bird York
Can this woman sing?! You know it. Range, purity of voice, professionalism, to name some of her talents. And who, over the age of 15, couldn't relate to this song?
"Why does it always rain on me?" by Travis
Another song that most everyone can relate to. Simple but effective! It outlines that feeling of being forsaken.
"Ball and Chain" by Social Distortion
Little-known gem with a creative backbeat and a mouthful of blues. For those who like a little humor infusion, this will be a treat.
"2000 Miles" by Pretenders
My favorite song. You're likely to hear this song only during Christmas, because this holiday is mentioned, but it's worthy in all seasons. I once listened to this song about 50 times in a row, because its therapy is that good.
You can hear Tom's My Exit show Monday night at 11pm on 97.7, Saturday at 8 am, or at exit977.org.
Here's how to schedule your own My Exit show on WEXT.