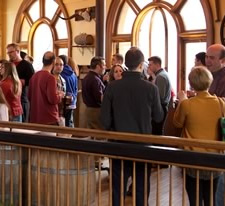 Brian emails:
I recently moved to Albany from Manhattan and I am looking to get involved in the area and meet new people. Do you have any suggestions on local groups, leagues, clubs, events, etc? I am open to almost anything - sports (softball, dodgeball..), classes (cooking, painting, sewing, music..), outdoor (running, fishing, hiking...), bar leagues (corn hole, darts..), art shows, wine/food events, etc. Is there a good resource that aggregates info on this (other than AOA of course)?
We suspect moving here from a really big metro area -- especially one like NYC or San Francisco or Seattle -- takes a bit of an adjustment in terms of finding the sort of stuff Brian's looking for. Sure, there's a smaller number of total options and the range is maybe not as wide. But there is plenty of stuff to do around here -- it's just that, unlike one of those big metros, you maybe have to put a bit more effort into finding them.
It sounds like Brian's looking for some specific suggestions, and if you have some, great. But we're also curious about more general strategies you might have. Maybe you can share a little bit about your own experiences finding your niche or crowd here. It could be a big help to Brian and other people who move here. Please share!
photo: Andy Kainz Photography
Hi there. Comments have been closed for this item. Still have something to say? Contact us.