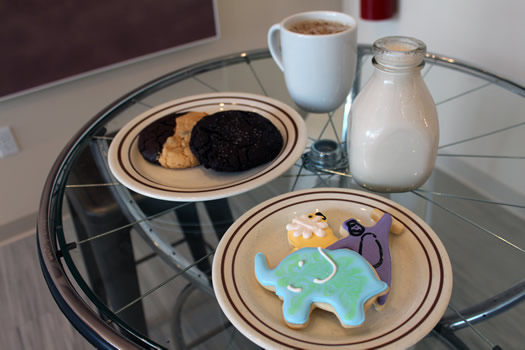 By Lauren Hittinger
When I first walked by Plum Dandy Cookies and Milk, with a charming family inside enjoying sweet treats with adorable glassware and fancy straws, I felt like I was staring into a modern-day hipster Norman Rockwell painting. I wanted to stop in right then, but I was on my way to meet friends somewhere else.
I love sweets, so it was only a matter of time before I arranged another chance to stop in. And here's what I discovered when I finally made it inside.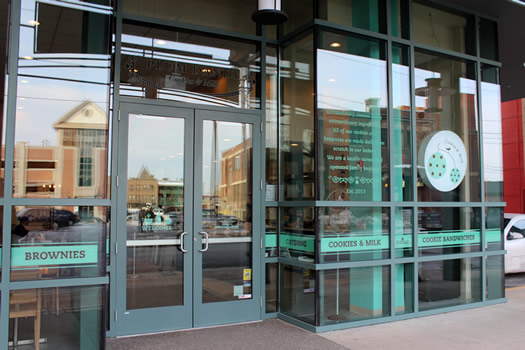 Cookies and Milk opened last year in a bright space in the new strip of buildings on Railroad Place in downtown Saratoga Springs. It's a sibling shop to the Plum Dandy frozen yogurt shop on Broadway.
When I walked in, I was initially confused over how to obtain my sweet treat, so the manager pointed out and explained the giant menus posted on the wall. There are over a dozen kinds of cookies you can order, along with specialty milks and coffees. The cookies span a decent variety, with biscotti, sugar cookies, and frosted animal cookies all represented among more traditional options.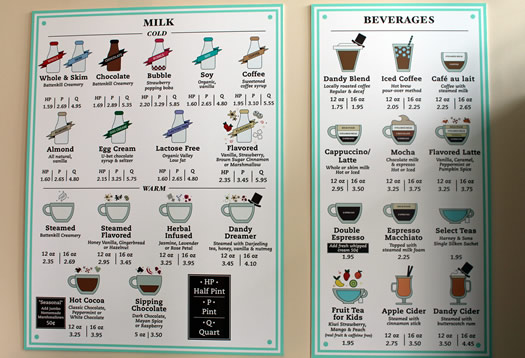 I was most impressed with the variety of beverages, though. Among them: coffee milk (outside of Rhode Island!), marshmallow-flavored milk, egg cream, sipping chocolate.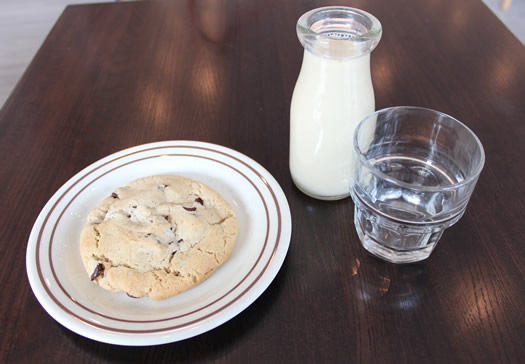 During my initial visit, I settled on a classic Chocolate Chip cookie ($2.75) and vanilla soy milk (half pint for $1.60). I was quickly served my cookie, along with my milk in a miniature milk bottle. It was so cute -- but impractical for dipping. Luckily, Cookies and Milk had already thought of this and thoughtfully provided larger-mouthed glasses to accommodate dunking.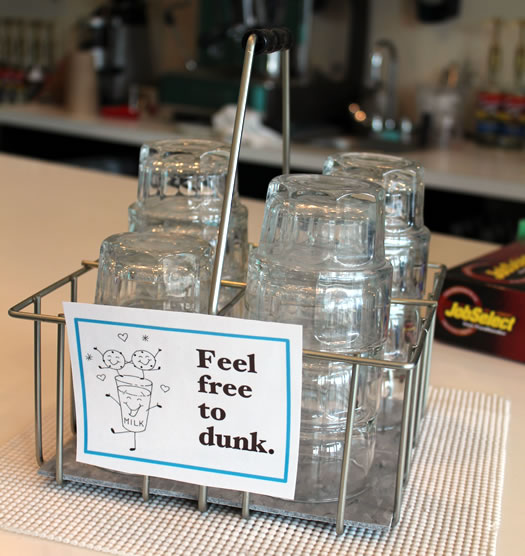 The chocolate chip cookie was firm on the outside but soft on the inside, with a smooth taste. It was a tiny bit sweet for my liking, but not sickly so. My soy milk was exactly as expected. I felt like one cookie was definitely enough for one person, so I brought my hunny back to try even more cookies on a different day!
On my second trip, we got a Gooey Louie ($2.75), PB Dark ($2.75), and Zoo Animal cookies ($3.50), along with coffee milk (pint for $3.10) and the Dandy Blend coffee (16 oz for $1.95).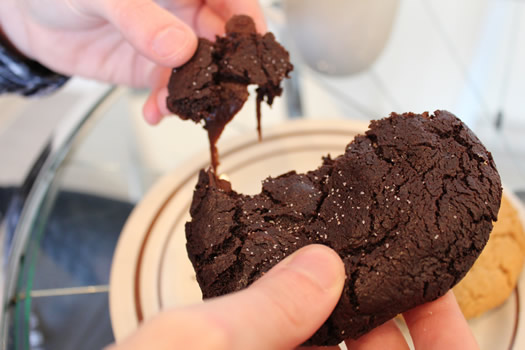 The Gooey Louie
The Gooey Louie is a cookie made with Belgian cocoa, a caramel and chocolate and truffle center, topped with sea salt. This was by far our favorite cookie. It was incredibly gooey throughout the entire inside, with crispy edges. The salted top created a nice contrast to the sweetness of the cookie. It was sweet and smooth, but not sugary or overwhelming.
The PB Dark is like two cookies in one, since it's a combination of a peanut butter cookie and a chocolate cookie. I preferred the peanut butter side, and found it to be nice and creamy. The chocolate side was a tiny bit bitter and firm, especially after trying the Gooey Louie.
The Zoo Animals cookies were very cute. When you order them you get a set of three frosted sugar cookies. I received an elephant, lion, and some sort of primate, all thoughtfully decorated. These cookies were firm with hard frosting. The flavor was much less intense than the other cookies we tried, but they were a nice little snack. I feel like the larger cookies are more like an entire dessert, while the Zoo Animals are a small treat and less filling.
Our drinks were very good. I was thrilled to get delicious coffee milk that was the right amount of sweetness. It reminded me of my home-state roots. The Dandy Blend coffee was a nice pour for the price, and was served in a sturdy mug when eating in. The flavor was similar to a breakfast blend.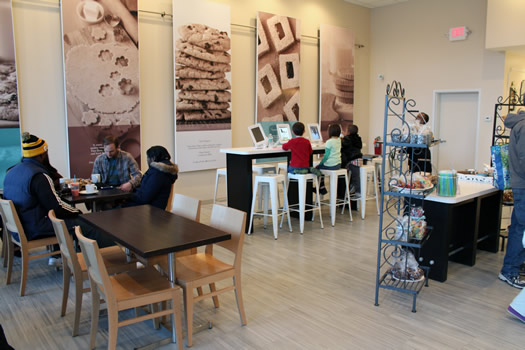 There is plenty of seating inside Milk and Cookies, even mid-day on a Saturday. I imagine they're a work-friendly space, since they provide free wifi and a few outlets along the edge of the room.
In the center of the room there's a tall table lined with iPads, where kids were gathering around. When I went to investigate, I realized all of the iPads were loaded with games, many of them focused on baking and cooking.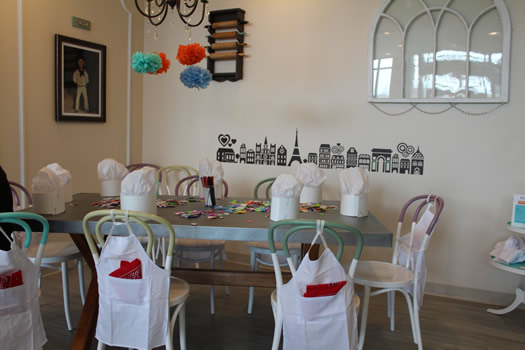 On both Saturdays I have visited Cookies and Milk, there have been groups of children celebrating a birthday party in a smartly decorated area towards the back. I can't imagine their glee at being able to decorate (and eat) seemingly infinite amounts of sugary treats.
Overall, I'm happy with my Plum Dandy Cookies and Milk experience. It seems like a good place to meet up with friends if you're tired of coffee shops or bars. On both visits I also saw adults chatting while their little ones played on iPads. Don't be surprised it you also spot me working from a table, scarfing down cookies.
Lauren writes about shopping, crafting, and living well on a small budget at The Thrifty Ginger.
Find It
Plum Dandy Cookies and Milk
55 Railroad Place
Saratoga Springs, NY 12866
Hi there. Comments have been closed for this item. Still have something to say? Contact us.