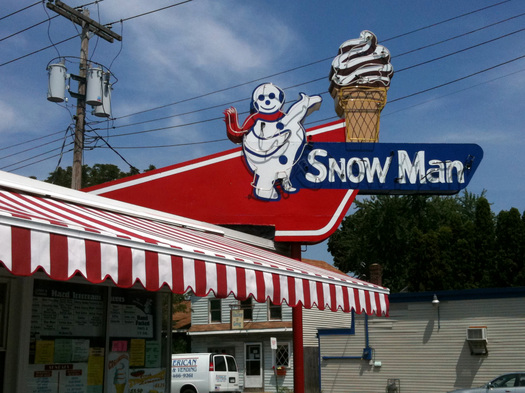 Updated March 25
Public service announcement: Ice cream stand season has started.
The Snowman in Troy opened today. Bumpy's in Schenectady opened yesterday. And a few other season stands will be opening over the next week or so.
Here's a round up of a bunch of season ice cream stands, with opening dates. In some cases the dates are TBA, or we just couldn't find out (yet). So if you can fill in some of the information in the comments, we'd very much appreciate it. Because ice cream.
Who wants sprinkles...
Bumpy's Polar Freeze in Schenectady: Opened March 6.
Snowman in Troy: Opened March 7.
Jim's Tastee Freez in Bethlehem: Update: Now open. (Thanks, Debra) (It's usually around this time. Debra says no yet. Melissa M and K say it looks like it's getting close.)
Twist in Glenmont: March 14, weather permitting.
Guptill's Coney Express Ice Cream in Latham: Opening March 15.
The Ice Cream Man in Greenwich: It's open year round, though it's currently on its winter hours. It appears spring hours start March 18, when it will be be open every day 11 am-8:30 pm. Oh, and it's new Saratoga Springs location is aiming for a May opening.
Kurver Kreme in Colonie: Opened March 19.
Lickety Split in East Greenbush: March 21. (Thanks, Brooke!)
Jumpin' Jack's in Scotia: March 27 at 11 am. There will be a line.
Mac's Drive-In in Watervliet: April 2 at 11 am, we hear from Mac's via email.

The Dairy Haus in Saratoga Springs: TBA (sounds like it will be soon).
Country Drive-in in Clifton Park: We don't know! Do you? Please share in the comments!
On the Farm in Latham: We don't know! Do you? Please share in the comments! (Opened April 15 last year.)
Corner Ice Cream in Guilderland: We don't know! Do you? Please share in the comments!
Moxie's in Wynantskill: Usually opens around Mother's Day in May.
Got another place to add? Please share it in the comments.
And of course, year-round places -- such as Emack & Bolio's in Albany, and the Toll Gate in Slingerlands -- are also open. Because, you know, they're year round.
Hi there. Comments have been closed for this item. Still have something to say? Contact us.