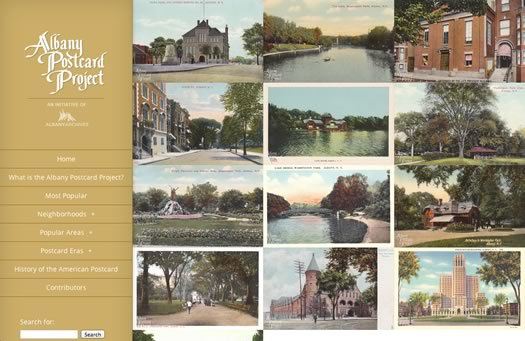 Behold, some delicious local history nerd candy: the Albany Postcard Project.
The site, a creation of Albany Archives and collaborators, is an online collection of local vintage postcards mapped to the places from which the images were taken/illustrated. The entries also include dates about when the postcard's publishing era, when/from where/to where it was sent if mailed, and the message on the back.
Example: Here's an entry for a 1907 postcard of The Trust Building at the corner of State and Broadway in downtown Albany. (The SUNY Research Foundation currently occupies the building.)
From the project's about page:
At its peak, the postcard craze of the 1900s spawned thousands of images from many American cities, hundreds of them from Albany. The Albany Postcard Project is a community based initiative launched by the Albany Archives to create a comprehensive look at how the city appeared at the turn of the 20th century using scenes from postcards.
With much of Albany's architecture lost to time (and bulldozers), we can get a great idea of where the generations before us lived and worked through these pictures. In many instances we can duplicate the spot where the postcard was taken and compare the two locations, sometimes with startling results.
Over time we plan to collect as many of postcards as possible, and we need your help. We'd love to have scans of your postcards to help get a clearer picture of the city.
That about page link includes the info about how to submit cards.
Earlier on AOA:
+ Talking with the creator of Albany Archives
+ Albany: Then and Now app