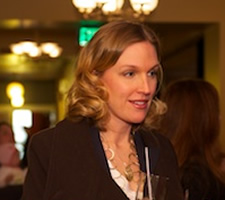 Kristi Gustafson Barlette -- one of the Times Union's highest profile personalities -- announced today she's stepping back from her popular blog and column. From a post today about the evolution of her role at the paper:
That's not to say I don't still love writing, I do, but my mission has changed and raising Little C is a priority. R and I were raised by stay-at-home moms and want to offer Little C the same.
So I've decided to step away from the blog, and from Life 3.0, to be home with our daughter. To watch her grow and mature and build and follow her own dreams.
I'm not going off the grid, or even fully stepping away from journalism. Around Memorial Day, I'll be doing some part time editing for the TU and freelance writing for the magazines. I'll also continue my FLY 92.3 segment.
I'll continue to play around on Facebook and Twitter -- and use those platforms to reach out to readers for story ideas and sources for two of my favorite features sections -- Solutions and Work Life. A new opportunity, and a new role -- one I'm excited to begin. Now, and then, you can reach me through Facebook and Twitter or kbarlette@timesunion.com.
During her maternity leave, Barlette started her own blog separate from the TU, and she mentions in the post that she'll continue to write there.
More than anyone else in this market, Barlette has successfully embraced being the sort of multi-platform personality that so many media orgs have tried to cultivate over the last handful of years: as a columnist in the paper, on her very popular blog on the TU website, on radio and TV, on Facebook and Twitter. All the while she's exhibited a keen sense of how to pick topics people will respond to -- and from time to time, to press people's buttons.
Most media people are kind of interchangeable for consumers of media. Yep, some readers/watchers/listeners notice bylines, and if a media figure sticks around long enough there's a certain position of familiarity she or he takes on. But it's remarkable to us how often we've encountered people who have some sort of opinion about Kristi -- good, bad, impressed, frustrated, whatever. They noticed her. It's like they couldn't help but have some sort of reaction to her. We're pretty sure that didn't happen by accident.
Hi there. Comments have been closed for this item. Still have something to say? Contact us.