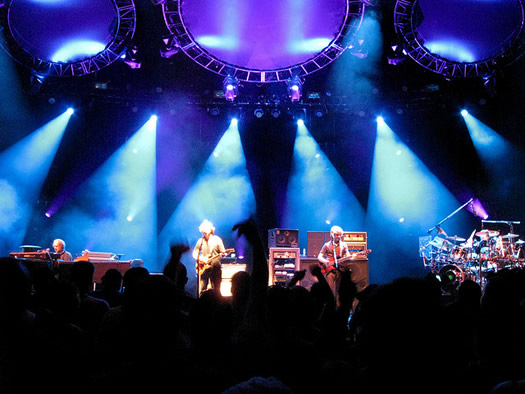 A sure sign of summer: Phish is headed back to SPAC for a multi-day run -- July 3, 4, and 5. Tickets go on sale March 28 at noon -- they're $45 (lawn) and $60 (pavilion).
March 28 is the public on-sale time. The band also has a pre-sale ticket request system. The deadline for entering that is March 23.
July 4 is a Friday this year, so the usual weekend run starts on a Thursday this time around.
Other pop acts announced for SPAC this summer so far...
+ Jack Johnson with Edward Sharpe and the Magnetic Zeros May 24
+ Dave Matthews Band May 30 and 31
+ Journey and Steve Miller Band June 14
+ Fall Out Boy and Paramore June 24
+ Sarah McLachlan July 16
+ James Taylor July 19
+ Lionel Ritchie with CeeLo Green July 25
+ Rascal Flatts with Sheryl Crow and Gloriana August 3
+ Luke Bryan with Lee Brice and Cole Swindell August 17
+ Chicago and REO Speedwagon August 19
+ Motley Crue with Alice Cooper August 26
+ Jason Aldean with Florida Georgia Line August 29
Live Nation advertises on AOA.