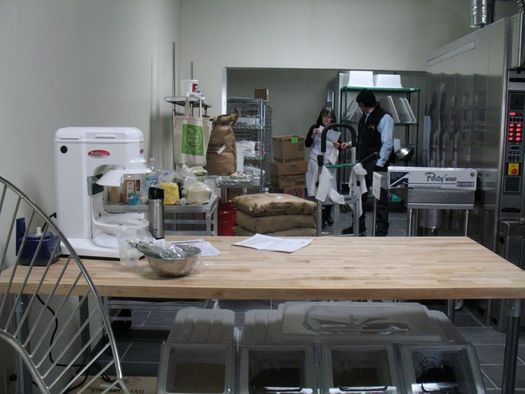 Like anyone else, Naomi Davies had a handful of reason for making a career switch. But, really, the choice boiled down to one important reason: "I was craving a great bagel."
So she's opening a new bakery -- Bread and Honey -- on Madison Ave in Albany's Pine Hills neighborhood.
There are large-format photos above -- click or scroll all the way up.
The background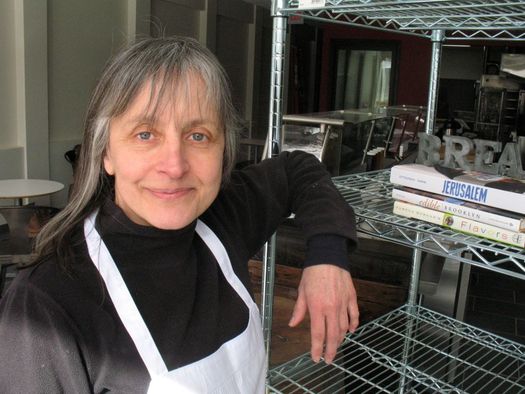 Naomi Davies
OK, but first, let's jump back a bit. Davies -- pronounced like "Davis" -- is originally from Birmingham, England. She came to the US about three decades ago to be a dancer in Manhattan. She eventually switched over to a career in architecture, and then construction management. "Well, they all dealt with the same things to me: space and time and movement," she explained to us with a smile.
After leaving New York City for Columbia County a few years ago, she got connected with Honest Weight Food Co-op and worked as a consultant on the construction of the co-op's new store on Watervliet Ave. And that experience led to her current path.
"I learned so much about retail and food, just being with people who really cared about what they did and how they did it," she said recently as we stood in the bakery space. "And getting to know how they work, I saw an opportunity for a bakery here in Albany that could provide good, fresh, artisan breads. And I was craving a great bagel."
So Davies sought out classes to increase her baking skills, including an intensive course at King Arthur Flour in Vermont. She comes across a detail-oriented person -- one of our conversations touched on the nuances of getting the "ears" of a baguette (the scoring on the top) just right -- and baking, especially at scale, is nothing if not about details. "I love the analytical side of it -- measuring air, and flour, and water temperatures, getting everything just right."
But it's not all ratios and temperatures. There's also an emotional side to food, and that seems to motivate her as well."I just can't remember many happier moments than sitting down and eating bagel and cream cheese and lox, with capers. I mean, that was such a treat to do," she said, recalling some of her memories from Manhattan. "I posted a picture on Facebook of the crew eating the first round of bagels and they've all got the biggest grins on their faces. I mean, good bread makes everyone happy."
The bagels
Davies says Bread and Honey's offerings will be centered around bagels. To start they'll be making plain, everything, sesame, poppy seed, and cinnamon raisin. To go with the bagels: cream cheese in plain, scallion bacon, jalapeno; a tofu-based cream cheese; lox; and nutella with apples. Also: bagels as breakfast sandwiches, with eggs, bacon, and cheese.
And what's her ideal bagel? "It's definitely got a little snap and crunch when you bite into it. But you should be able to taste the bagel. Some people have a theory that you put so much stuff on a bagel that you don't taste the bread. I want to reverse that. So that it's amazing bread that happens to have something on it."
The other items
Bread and Honey will be offering bagels and baguettes to start. As the bakery gets up to speed over the next few weeks, she said they'll be gradually adding foccaccia and other breads, rolls, pretzels, muffins and scones, and scratch-made soups.
Davies says she's trying to source high-quality ingredients, locally when possible, like King Arthur flour, fair-trade coffee, and honey from Big Woods Wildflower in Greenville. But at the same time she wants to keep prices reasonable. "I want to make it within in reach for everyone, because it shouldn't be a specialty $9 loaf. That's wrong."
The opening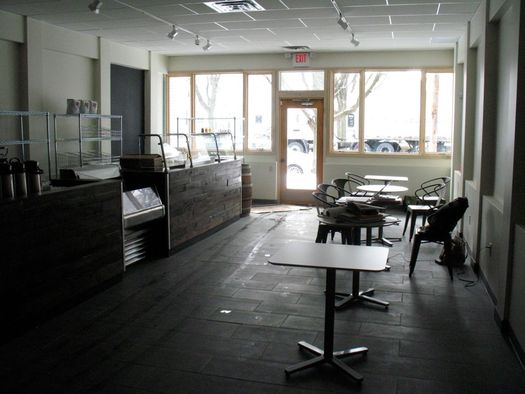 The bakery is set for a soft opening this Saturday, March 15. Hours might shift, but to start opening will be at 6:30 am on weekdays, 8 am on Saturday, and 9 am on Sunday. Closing hours will be sometime in the early afternoon.
Davies said she's also in talks for wholesale arrangements with other outlets around town -- she's already struck a deal with Bake For You on Delaware Ave. Also planned for a bit farther down the road: classes.
She seemed excited about finally opening: "This is my swan song. I mean, this is going to be my last career. And it's going to be brilliant."
Find It
Bread and Honey
809 Madison Ave
Albany, NY 12208
Hi there. Comments have been closed for this item. Still have something to say? Contact us.