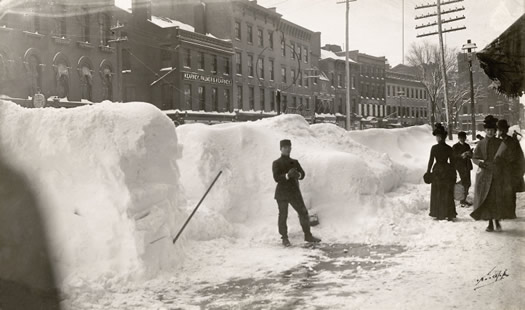 So this winter has been, for many people, something less than pleasant. And the ice/snow storm this week -- the second week of March -- is dragging out the frozen frustration. But it could be worse. A lot worse.
This same week 126 years ago, Albany and the rest of the Northeast were hit with The Great Blizzard of 1888. Also known as "The Great White Hurricane," the Nor'easter dumped many feet of snow through New Jersey, New York, Connecticut, Masschusetts.
From a National Weather Service-Albany recap of the storm's effects here:
The blizzard by which all others are measured. Light snow began around 3 PM on Sunday the 11th, accumulating to near 3" by midnight. The snow intensified overnight and there was 18" on the ground by daybreak on Monday the 12th. Moderate to heavy snow continued throughout the day accumulating to 33" by midnight. Snow continued on and off through Tuesday the 13th, adding roughly another foot, until finally ending around 3 AM on the 14th. Total snowfall for the storm was 46.7", but the drifts were significantly higher.
The city of Albany was virtually shut down. There were no coal deliveries, and thus, no heat. Doctors were unable to make house calls, and it took many days to clear the snow off of country roads to make them passable. At the time it was called the "worst storm in living memory," and it still holds the distinction of the worst winter storm on record in many areas of the northeast.
Those 46.7 inches of snow are the single-storm record for Albany, and not by a little bit. The storm with the next highest total -- March 13-14, 1993 -- piled up "just" 26.6 inches of snow.
Thanks almost entirely to that storm, Albany recorded more than 50 inches of snow in March of 1888. That was almost half the total for that entire winter -- which, at 110 inches, is the second snowiest on record.
By the way: As of the end of Wednesday, Albany was at 65.9 inches of snow for this winter -- that's about 14 inches more than the typical total by this point. [NWS]
photo: "27 N. Pearl, Blizzard of '88," from the Morris Gerber Collection via the Albany Institute of History and Art.
Hi there. Comments have been closed for this item. Still have something to say? Contact us.